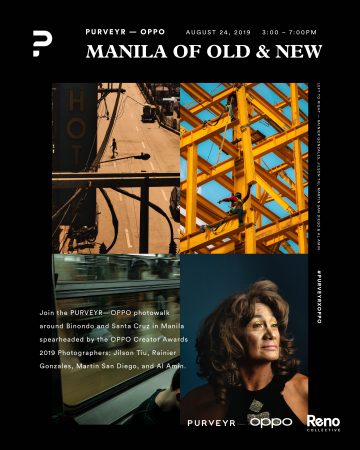 Culture inspires art. These two facets go hand in hand in inspiring one another and moving each other through time. In revisiting culture and taking a closer look, you are able to further your vision and allow inspiration to drive your creativity forward.
In partnership with PURVEYR, OPPO Philippines is hosting a photo walk around the lovely old town of Binondo, a town that's known for capturing the beauty of Old Manila. The photowalk will allow people to revisit the iconic and historical location that continues to bustle with life, and inspire creativity.
Beyond the adventurous photowalk experience, participants are also in for some insightful hands-on photography and phonography tips and tricks from these established photographers who are part of OPPO's Reno Collective*, all of whom were recently part of the global OPPO Creators Awards** photography contest:
AL AMIN
Al Amin is a full-time filmmaker and photographer hailing from Zamboanga City. Currently based in Manila, he splits his time between directing TV commercials, shooting photos for publications and multinational brands, as well as traveling around the world. Al graduated with a degree in Multimedia Arts from the De La Salle-College of St. Benilde.
JILSON TIU
A professional photographer and photojournalist with a focus on street photography, Jilson Tiu tackles environmental and social issues through his personal documentary and NGO works. He contributes stories and documentaries to online and print publications in both local and international news and media.
MARTIN SAN DIEGO
Martin San Diego is an independent documentary photographer whose work revolves around the interplay between oppression, religion, and culture. He was a fellow of the Konrad Adanauer Stiftung Media Programme Asia, and a visual journalism graduate of the Asian Center for Journalism in Ateneo de Manila University. He has been published globally on The Guardian, VICE, and Al Jazeera, and regularly takes on editorial assignments with Rappler.com and Ink Global.
RAINIER GONZALES
Rainier Gonzales started taking photos at the age of 18 using a smartphone. His style is focused heavily on urban and street photography, as he enjoys giving people a whole new perspective on the seemingly ordinary and mundane. Rainier graduated with a degree in Computer Science from Trinity University of Asia.
Take on the streets of Binondo and immerse yourself in culture with the power of OPPO Reno 10x Zoom, equipped with the brand's first full-focal-length triple camera system featuring 48MP(IMX586), 8MP(wide angle), and 13MP(telephoto). With the objective of helping young creatives further their vision, the smartphone also boasts of a game-changing 10x hybrid zoom and 60x digital zoom – the first of its kind in the smartphone industry that truly allows users to stretch the limits of their creativity.
The OPPO X PURVEYR Photowalk is happening this August 24, 2019 and is open to all, but with very limited slots of 20 pax. The journey starts 2:00PM at the First United Building in Binondo. Interested to take on this photowalk adventure?
Interested participants may visit OPPO and PURVEYR's Facebook and IG pages for more details about the photowalk including mechanics on how to register for the event.
*The Reno Collective is OPPO's pool of local creative icons who are constantly pushing the limits of creativity through their craft, be it through visuals art, fashion, or photography. The Reno Collective headliners include contemporary artist Dex Fernandez, film director Treb Monteras, plus fashion-forward sibling duo Daryl Chang and André Chang.
**The OPPO Creators Awards is a global photography contest hosted by OPPO with the intent to identify, recognize, and nurture photographic talent. See the dedicated platform and know more at https://seebeyond.oppo.com/en/.