Global megastar Ed Sheeran has unveiled the official tracklisting for his 'No.6 Collaborations Project', confirmed for release on July 12 via Asylum/Atlantic Records. The 15-track LP, that includes 22 collaborators, will feature an all-star cast of Ed Sheeran's favourite artists including Cardi B, Camila Cabello, Khalid, Eminem, Travis Scott, Justin Bieber, Bruno Mars, Stormzy and many more!
"I'm a huge fan of all of the artists I worked with on the album. Whether I've been following them since the beginning of their careers, or had their albums on repeat, they're artists that inspire me and all bring something special to each track. Can't wait for you to hear it!" says Ed Sheeran.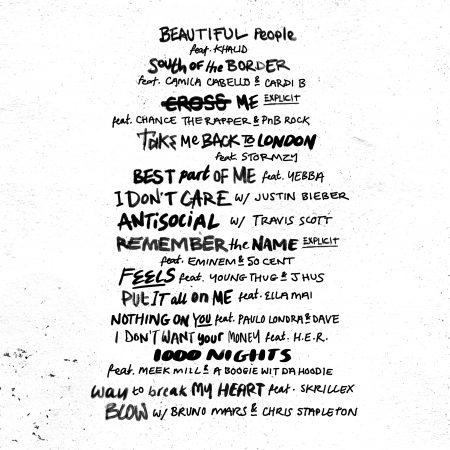 The tracklisting news follows the release of Ed Sheeran's global hits 'I Don't Care' with Justin Bieber and 'Cross Me' feat. Chance the Rapper and PnB Rock – the tracks, which have amassed over 750 million global streams to date, both feature on the upcoming release. Already one of the biggest hits of the year, 'I Don't Care' secured its fifth consecutive week at No.1 in the UK's Official Singles Chart last Friday.