At homes, fathers are usually perceived as the reserved and quiet member of the family but behind the facade of strength and stability lies a heart that can also provide care, comfort, and warmth.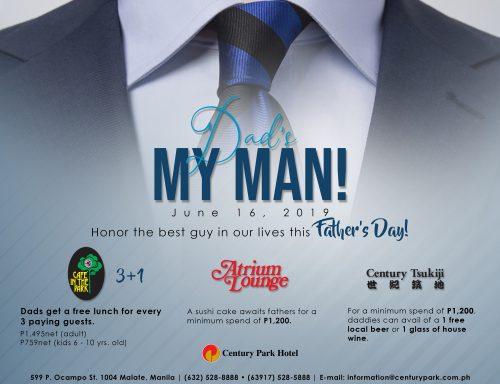 Century Park Hotel recognizes the great tasks that fathers accomplish for their children. To sons, fathers are role models they look up to, while to daughters, fathers are the first to treat them like a princess.
This is why at Century Park Hotel, #DadsMyMan! On June 16, 2019, Fathers enjoy a Father's Day Special at Century Park Hotel! Get 1 FREE buffet lunch or dinner for every three paying guests at Cafe in the Park. Buffet prices start at P795 net (kids 6-10 years old) and P1,495 net (adults).
Consequently, for a minimum spend of P1,200, dads can drink a free local beer or a glass of house wine at the Atrium Lounge. They can also enjoy a free sushi cake at Century Tsukiji also for a minimum spend of P1,200.
"This Father's Day, dads deserve comfort and rest from their tiring duties as both the protector and provider of the family, after all, they are the foundations of our homes," said Anthony Tan, Century Park Hotel's General Manager.