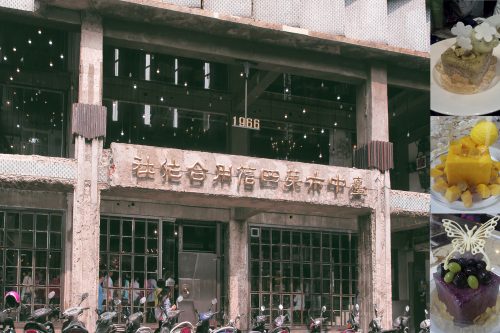 Taichung is an energetic and creative city. It is where pearl milk tea, KTV and Hotstar Fried Chicken Breast originated. This place features ruins that have been restored. "4th Credit Union" is a very popular tourist spot. At "4th Credit Union" you can enjoy ice cream, pancake, and more. It is so good that this place has become a famous destination in Taichung.
The old "4th Credit Union" area is now a new landmark that young people in central Taichung regularly visit. The entire building features the original reinforced concrete wall on purpose. The area looks like an incomplete cement construction site at first glance, but the building was deliberately kept that way and is a delicate design that keeps the original feature of the bank.
"4th Credit Union" is the creative work innovated by Sunrise Group after creating the popular tourist spot "Miyahara". The old appearance and look of the old building remains the same outside, however the interior decoration will delightfully surprise you. One of the main showcases is the magnificent crystal chandelier which hangs on the ceiling. The place sells ice cream, souvenirs, and pancake just like in "Miyahara" nearby. Taichung people love eating ice cream. The famous Fengjen ice, and pancake are all available here. Unlike the usual pancakes, various salty pancakes are also offered here, and features more than 10 flavors to choose from.
You will love the stunning display inside the store. The cabinet and souvenir packaging showcase an old nostalgic feel. The wall and ceiling make up a collage of a New Taiwan Dollar. They are actually made up of ordinary money.
If you have time, you may also walk to "Miyahara" to check out the Sunrise Pineapple Cake which is famous all over Taiwan. "Miyahara" also happens to be a really famous tourist attraction for visitors wanting to buy souvenirs.
International travelers may take a train to Taichung Railway Station and walk along the Luchuan W. Street to the destination. Address of 4th Credit Union is No. 72, Zhongshan Rd., Central Dist., Taichung City (+886 4-2227-1966)
For more events, please visit Taiwan Tourism Bureau website http://taiwan.net.ph/ or https://www.taiwan.net.tw/