The notorious Zinger is one of KFC's classics that is known to be served as a burger, largely favored for its large size and spicy kick. Now it has entered the field of rice meals and is ready to satisfy your belly, taste buds, and budget with the new Ala King Zinger Steak Meal!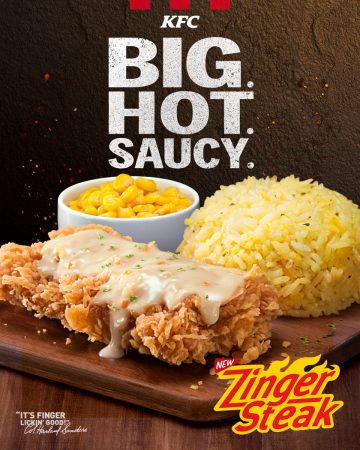 It's KFC's famous hot and spicy chicken fillet, drenched in thick and creamy ala king sauce, topped with parsley flakes, served with steaming butter rice, perfectly paired with buttered corn and a regular drink.
With the flavorful sides that comes with the meal, the Zinger Steak not only offers a filling feast for the hungry tummies, but also a mix of different savory and buttery flavors that blend together blissfully.
The Zinger Steak will be available in the following formats:
Zinger Steak Ala Carte: Php 99.00
Zinger Steak Meal (with drink): Php 109.00
Zinger Steak Combo (with side and drink): Php 120.00
(prices may vary in certain stores)
Fill your stomach and satisfy your cravings as you munch on the new and flavorful meal made the KFC way—with the Ala King Zinger Steak Meal. It's finger lickin' good!