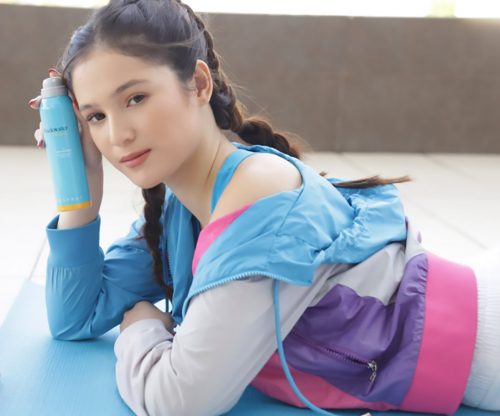 With the face of a doll and heart of a fighter, actress and model Barbie Imperial is on top of the world. But just like any other millennial, she ensures to have a work-life balance by exploring the outdoors with her dear friends.
As the Summer season is just around the corner, Barbie shares her excitement to be one with nature. "Im more of a bundok person rather than a beach person. I tried hiking for the first time last year with my friends, and since then, Ive always looked forward to doing it again this year," she said.
And while it can take hours and hours to reach the top of a mountain, she says that preparing for the adventure is just as exciting as the trip itself. "Personal hygiene comes first. And because hindi maiiwasan magpawis habang umaakyat ng bundok, I make sure that I always have my Blackwater Desire Deo Spray with me," she explains.
A fresh scent of baby powder with hints of orange, lily, and rose, Blackwater Desire fits Barbie perfectly. "Kahit magpawis ako, hindi ako nagkakaroon ng foul smell. Parang powder yung effect niya sakin very gentle and compatible with my skin."
Another essential in preparing for the hike, according to Barbie, is to make sure shes in top form. A fitness advocate, the actress keeps her muscles toned by hitting the gym at least thrice a week something she admits feels more like a pleasure than a task.
"Thats another goal of mine this summer to be more fit and healthy. And whenever I work out, I never leave my Blackwater Flora Calm Heart or Blackwater Fame Glamorous. Parang tubig lang hindi pwedeng hindi ko dala because it really keeps me feeling fresh kahit ilang oras na ako sa gym,"  she said.
Whatever her mood in the gym, Barbie relies on Blackwater Calm Heart, a blend of mandarin blossom with pink pepper and ginger for a sexy hint of spice; and Glamorous, a fragrance of mild vanilla and musk to keep her smelling fresh all day, even after working out.
The Summer season is the best time for Barbie to travel and try out new experiences. "Ang dami kong gustong masubukan habang bata pa ako. I want to try dance class, diving, and script-writing. The activities are endless, kaya keep exploring lang habang summertime," she said.
Like Barbie, summer is the season to try more activities while staying fresh all day with the help of Blackwater Womens wide selection of personal care products.