From meeting new people to having important job interviews, our smile plays an important role in setting the first impression. While fresh breath is always key at zero feet away, attraction starts from 5 feet away, making your bright, white smile the first step to get close. In fact, most of us are constantly on the hunt for the best whitening products to achieve whiter teeth, even going for alternative natural whitening solutions.
What we don't realize though is that clean teeth is not always equal to white. This is why Closeup came up with the newest progressive whitening toothpaste – the NEW closeup White Attraction Naturals. Now, you can #SwipeWhite to a fresh, naturally whiter smile in just 2 weeks!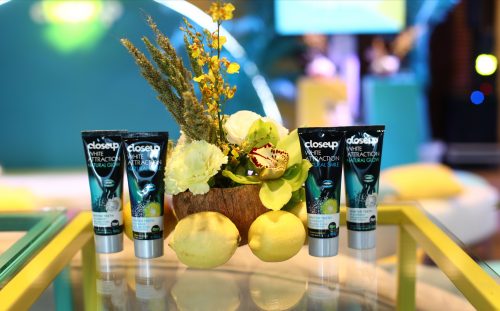 White Attraction Natural Smile is made up of Lemon Essence & Sea Salt. Known to remove stains, lemon extract provides a fresh sensation in your mouth while removing bad breath and odor. Sea salt strengthens the gums and removes
plaque while neutralizing pain and killing oral bacteria.
White Attraction Natural Glow is infused with Coconut Extract & Bamboo
Charcoal. Coconut essence improves gum and overall oral health. Bamboo
charcoal maintains the pH balance in the mouth thus preventing cavities, bad
breath, and gum disease.
During the event launch last October 4 at the Garden Pavilion of Grand Hyatt
Manila, Unilever Research and Development manager Nesty Tumbagan
demonstrated how the product worked through a compelling demo using shells, which also has calcium as its major component. The shells were dipped in a
mixture of coffee and food, which is known to stain teeth. And despite being
heavily stained, the shells turned whiter when brushed with new Closeup White Attraction.
After the demo, the guests were then invited to #SwipeWhite and experience the product through the Closeup Brush Bar. Finally, everyone got to flaunt their fresh, naturally whiter smile in the various Instagram stations in the venue!
Clean is not equal to white after all. Say goodbye to yellow stains with the NEW closeup White Attraction Naturals.
The NEW closeup White Attraction Naturals range is available in tubes of 100g for PHP 76.00 in e-commerce and in all leading supermarkets, groceries, drug stores, and department stores nationwide.