Starring Sarah Jessica Parker (Emmy® and Golden Globe winner for HBO's "Sex and the City"), who also serves as an executive producer, DIVORCE returns for its six-episode third season same time as the U.S. on Tuesday, July 2 at 10:00 am, exclusively on HBO GO and HBO.
The episode encores on the same day at 10:00 pm on HBO. New episodes premiere every Monday at the same time. In the new season, Frances (Parker) and her ex-husband, Robert (Thomas Haden Church), encounter several bombshell surprises that spin their post-divorce lives in completely unexpected directions.
DIVORCE also features Molly Shannon (Emmy®-nominee for HBO's "Enlightened") as Diane, Frances' close friend, who is having to adjust to a humiliating new life since her husband, Nick, was arrested for embezzlement, and must now decide how independent she actually wants to be. Talia Balsam plays Dallas, Frances' other close friend and confidante, who is grappling with her own full-blown mid-life crisis: "What's next? Is this all there is?"
Becki Newton plays Jackie Giannopolis, Robert's fiancée, whose life is no bed of roses as she deals with being sidelined and with her new blended family. Sterling Jerins plays Lila, Frances and Robert's teenage daughter, who is enjoying her basketball team's newfound success, and Charlie Kilgore plays Tom, their 17-year-old son, who is wrestling with his plans for the future, creating new conflicts between Frances and Robert.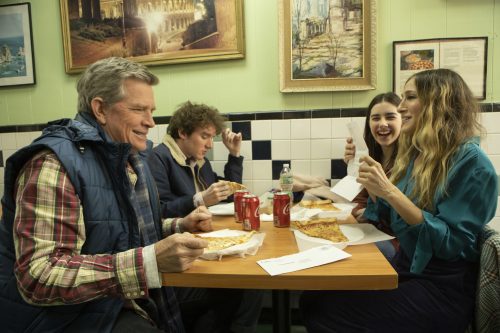 Also appearing this season are Dominic Fumusa as Jeremy, Robert's new overzealous coaching partner; James Lesure, as Henry, Frances' even-keeled new love interest, who comes with a lot more baggage than expected; Timothy Britten Parker as Leo, Frances' new eccentric boss; and Patricia Dunnock as Leo's timid sister, Bev.
Returning are Amy Sedaris as Robert's off-kilter sister, Cathy, who in just one quick visit manages to throw everything into chaos, and Tracy Letts as Diane's imprisoned husband, Nick, who is using his time in prison for absolutely zero self-reflection or improvement.