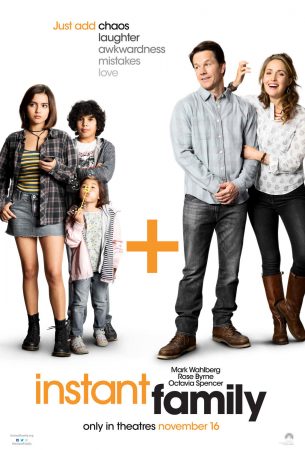 From the filmmaking team behind global box-office hits Daddy's Home and Daddy's Home 2 comes Paramount Pictures' new comedy Instant Family starring Mark Wahlberg and Rose Byrne.
Instant Family is inspired by the real events from the life of writer/director/producer Sean Anders. When Pete (Wahlberg) and Ellie (Byrne) decide to start a family, they stumble into the world of adoption. When they meet a trio of siblings, including a rebellious 15-year-old girl (Isabela Moner), they find themselves unexpectedly speeding from zero to three kids overnight. Now, Pete and Ellie must hilariously try to learn the ropes of instant parenthood in the hopes of becoming a family.
Anders began writing Instant Family with co-writer/producer John Morris in between their global smash hits Daddy's Home and Daddy's Home 2. In those two films, while delivering blockbuster laughs, the duo showcased their gift for presenting the nuances of the modern, blended family. With Instant Family, Anders pushes the possibilities of the blended family, as the film's lead character Ellie aptly puts it, "to next level shit".
As poignant as it is funny, as heartwarming as it is authentic, Instant Family celebrates the notion that a family can come from anywhere. It is a comedy that teases your funny bone, tugs at your heart, sneaks up and surprises you, coaxes your tears, gets under your skin and moves in to live with you for a while, just like kids.
While foster care adoption can be a serious matter for a film, Anders is also comfortable with also highlighting the lighthearted aspects because that is the personal story he wants to tell. When Anders and his wife made the life altering decision to adopt three biological siblings from foster care "a lot of the things that happened were funny and a lot of it was frustrating. To go into a situation where you bring people into your home who all of a sudden become your children and you don't even know them and they don't know you, it is just like a comedy of manners right out of the gate."
He continues, "I thought it would be great if John Morris (co-writer/producer) and I could make a comedy about this subject matter without it having to be a gut-wrenching drama that people would be afraid to see. We could do the movie in this way because my real-life experience was funny, warm and heartbreaking. I hope that this movie helps lead to kids finding families and homes."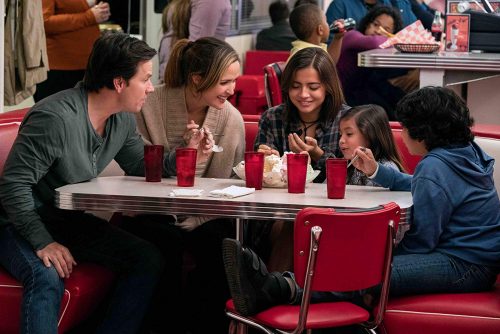 Anders explains that, "years later (after adopting) when John and I decided to write the story, I went back and started talking to my old social worker and met with more families and kids. The comedy that appears in the film came together because a lot happened to me or to other people who shared their story and situations."
Anders admits, "I'm not going to lie to you. I'm drawn to happy endings. Put me in front of a 'Field of Dreams' and I'm going to be a mess. I'm just that guy. To do a movie that has a really warm heart and can make people feel good, yet has a way to take people into some darker places, is honest. It is not fake or made up because I've met parents who have gone through journeys way harder than mine or the character's in the movie. The one thing that they all have in common is that every one of them said they wouldn't have it any other way. That was a reason why I just thought this is definitely a movie that can be a comedy and can be warm-hearted."
In Philippine cinemas January 30, Instant Family is distributed in the Philippines by United International Pictures through Columbia Pictures.