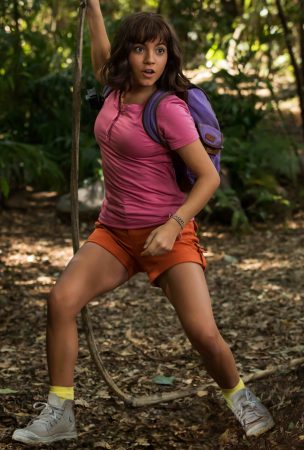 Teenage actress Isabela Moner was a shoo-in for the titular role in Paramount Pictures' Dora and the Lost City of Gold from the moment director James Bobin met her.
Her work in the films Instant Family, Transformers: The Last Knight and Sicario: Day of the Soldado had already established her as a rising star in Hollywood, with both the emotional and physical skills needed for the role. "I saw a lot of people, as you can imagine," he says. "But Isabela was just so fantastic. There was never a question in my mind. She has an intensity that makes Dora's action scenes riveting, but she's also got incredible heart. Isabela is the engine driving the whole film."
Watch the film's new spot here.
Based on the popular Nick Jr. animated series Dora the Explorer, the live-action adaptation comes from director James Bobin (The Muppets).
Having spent most of her life exploring the jungle with her parents, nothing could prepare Dora (Moner) for her most dangerous adventure ever – High School. Always the explorer, Dora quickly finds herself leading Boots (her best friend, a monkey), Diego (Jeffrey Wahlberg), a mysterious jungle inhabitant (Eugenio Derbez), and a rag tag group of teens on a live-action adventure to save her parents (Eva Longoria, Michael Peña) and solve the impossible mystery behind a lost city of gold.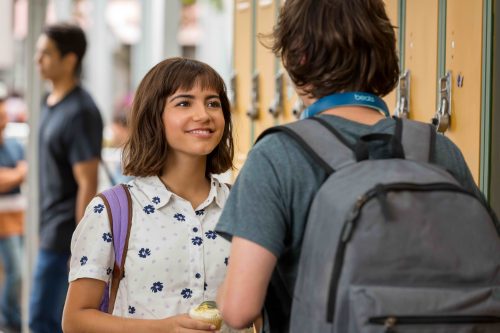 Moner came to the project with a notion of who Dora would be as a teen, but says the screenplay provided a very clear road map for the character. "She's not a kid and she's not an adult. She's funnier, more candid and a little bit more chill. I do break the fourth wall, but in a clever way, like I'm talking to a GoPro."
Drastically different from everyone she meets at a time in life when it's important to fit in, the young woman quickly learns that the best piece of advice her parents imparted is the simplest: Just be yourself. Dora wouldn't fit in with her suburban classmates even if she knew how. She brings her deep knowledge of animals, plants, seasons and cultures with her and continues to study the world around her — even referring to the students at her high school as "indigenous people."
"She doesn't know how to fake being another person," explains Moner. "In this world where it seems like everyone's just living for Instagram, Dora actually does know who she is. I think it's a great lesson for anyone — and for people my age specifically, who are just figuring out what they have to offer the world."
Bobin was the perfect director for this project, she says, not only because he knew the character well though his children, but also because he has an innate ability to think like a child. "I think it's because he truly treasures childhood," Moner says. "He loves the pure joy and the innocence of it, and that shows in the script and the film."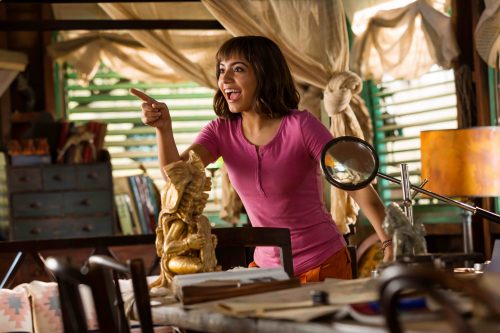 Only 17 when the film was shot, Moner was a model of professionalism, according to her cast mates. "I can't believe she is so young," says co-star Adriana Barraza, who plays Abuela Valerie, Dora's doting grandma. "She's so mature, with a beautiful soul. She is able to communicate everything at first sight. She is Dora!"
Moner's mother is Peruvian and she herself is fluent in both English and Spanish, with close ties to her Latina roots. "There is no better time for this movie to happen," says the young actress. "I was so honored to be part of this adventure. It's a statement to have a movie like this be part of American mainstream culture. It will make many kids and adults proud of their heritage."
In Philippine cinemas August 14, Dora and the Lost City of Gold is distributed in the Philippines by United International Pictures through Columbia Pictures.