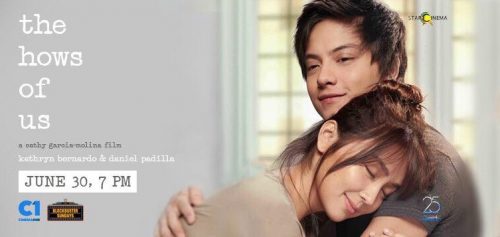 Cinema One is set to premiere the highest grossing Filipino film of all time, "The Hows Of Us," on Sunday (June 30), in continuing celebration of its silver anniversary of championing Filipino films.
Phenomenal Stars of Philippine Cinema Kathryn Bernardo and Daniel Padilla star in this movie that broke the country's box office records and earned the Golden Jury Award from the 50th Guillermo Mendoza Box Office Awards.
The Cathy Garcia-Molina film also received the prestigious Camera Obscura award from the Film Development Council of the Philippines. It was graded A by the Cinema Evaluation Board.
George (Kathryn Bernardo) and Primo (Daniel Padilla), a longtime couple with an almost perfect relationship, face struggles when Primo goes into depression for not getting the big break he was waiting for while George is forced to juggle between school and work. Will they be able to fix the 'hows' in their relationship?
Cinema One commemorates 25 years of championing Philippine cinema by delivering classics and contemporary local movies to its audiences on air, on-ground, and now online through its YouTube channel. It also holds the annual Cinema One Originals film festival.
Don't miss KathNiel's "The Hows Of Us" on this week's Blockbuster Sunday at 7 pm. Cinema One is available on SKYcable Channel 56, SKYdirect Channel 19, Destiny Cable Analog 37 and Digital 56. Watch Daniel Padilla's "Laging Kasama" #CinemaOne25 music video on Cinema One's YouTube channel.