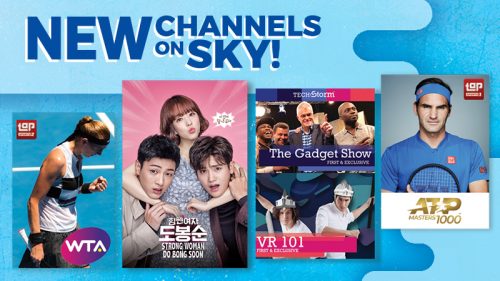 Families are sure to have an enriching summer as SKYcable adds new channels on special interests that catch every member of the family's fancy: Korean Wave, sports, and technology.
Hallyu fans are in for a treat with K-Plus, an ultimate Korean entertainment channel featuring exclusive and original drama series, variety shows and K-pop, and movies.
Among the channels' top celebrity offerings are Park Bo Young, Park Hyunsik in "Strong Woman Do Bong Soon" and Suho from Kpop boyband EXO in "Rich Man." It's also showing ongoing hits express from Korea such as "Confession," "I Hate Going to Work," "Show Champion," and "Weekly Idol."
Sports aficionados will also be delighted with back-to back sports channels. In Tap-Sports 1, viewers get to see the global elite men's professional tennis circuit organized by Association of Tennis Professionals (ATP) for the 2019 tennis season while in TAP Sports 2, they get to see women of tennis in action as it airs the 2019 Women's Tennis Association (WTA) Tour.
Local techies now have a one-stop destination for shows about technology and entrepreneurship, and their fast-rising stars. Tech Storm, a brand-new 24-hour channel showcases a compelling line-up of best in-class, first-run, and exclusive entertainment across tech and entrepreneurship themes. Among Tech Storm's popular shows are "Shark Tank" (US & Australia), Tech Storm's "The Next Million Maker," "Discover It First," "The Gadget Show," "Buy It Now," "Start Up," "The Hatched," and "Future of Mobility."
Subscribe now to SKYcable as it brings a multitude of enjoyment options with these new channels (K-Plus, Tap Sports 1, Tap Sports 2) on free preview until April 30, while Tech Storm's free preview is until May 14. All these channels are available to SKYcable subscribers in Mega Manila (Metro Manila, CAMANAVA, Rizal, Bulacan, South Luzon).