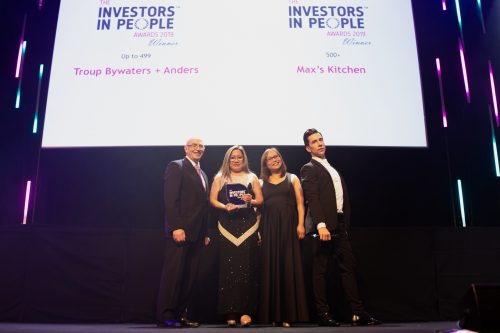 Max's Restaurant, the flagship brand of Max's Group Inc. (MGI), was recognized for being a competitive global leader in people management practice as it took home the prestigious Best Apprenticeship Programme Award for its Apprenticeship in Commercial Cooking, Food and Beverage and the Leadership Program in Bartending at the recently concluded Investors in People (IIP) International Awards, where over 700 people from around the world gathered at the Old Billingsgate Grand Hall in London, United Kingdom.
Max's Restaurant was also a finalist in five (5) other categories, namely Social Responsibility, Outstanding Use of Technology, Rewards and Recognition, Leadership & Management, and Learning & Development. The iconic megabrand now holds the distinction of being the only company that has ever been named as finalist in six (6) categories in the history of the IIP International Awards—a testament to its management team's unwavering commitment to equip young Filipinos with the best skills, training, and values relevant in today's industry.
The IIP is considered a Gold-Trusted awards organization by The Independent Awards Standards Council, aiming to reward high-performing companies, people, and teams that make the difference everyday as they highlight excellence from across the IIP global community and prioritize the personal and professional development of their employees. The IIP International Awards 2019 has been the biggest and most competitive year to date since additional categories by size band were introduced, and other non-accredited IIP global members were given a chance to submit their entries and compete.
"The Philippines is a country with a young population and we see the opportunity for us to help more young Filipinos grow into world-class food service industry professionals who will champion our brand and Filipino cuisine," said Max's Restaurant HR Manager Liberty Marcaida. "We believe in the value of bringing fresh blood into the company and their potential to uphold excellence and service that has been part of our brand's longstanding heritage. We are extremely proud and grateful for being recognized at the Investors in People International Awards."
"It is a huge honor for us to be named as one of the global innovators in transforming the lives of our dedicated workforce," added Max's Restaurant Chief Operating Officer Paolo Serrano. "We understand that our employees contribute greatly to our success, being at the core of our operations. It's our mission to provide them meaningful opportunities to become well-rounded professionals and productive members of society."
Partnering with Max's Restaurant in the co-creation and designing of the two (2) programs that won the Best Apprenticeship Programme Award is the Technical Education and Skills Development Authority (TESDA). These programs allow Max's young apprentices to enjoy three months of a combined classroom and practical training, along with a mentorship program with a line manager. Additionally, they immerse themselves in restaurant work so they can learn firsthand the brand's quality standards and technical competencies while developing leadership skills in one of the casual dining industry's best organizations.
Given that today's learners also seek for more accessible, mobile-friendly, and self-paced content, the programs have an e-learning feature to ensure apprentices have ample opportunities to learn at their point of need.
One of the program graduates, Allan Que, said that the apprenticeship taught a unique perspective on service. "At Max's, I learned to be industrious, patient, understanding, and empathetic, especially with my coworkers and our diners. My power tool for my journey at Max's is my genuine care and service from the heart," shared Que. "In my years of working in the food industry, Max's is the only place I know of that has so many training opportunities to hone talent and leadership. I've learned a lot at Max's—from organizing events and functions, Shift Management Training Program (SMTP), developing people, and even day-to-day responsibilities such as leading our shifts."
Since the programs' launch, Max's has seen over 3,700 apprentices complete the program and gain employment, with 12 graduates securing promotions and moving up in the corporate ladder. Positive results are evident as quality standard scores of the stores have improved by 10%.
With the great benefit of Max's designing the apprenticeship themselves, they have also secured a partnership with the Department of Labor and Employment (DOLE) to create a Special Program for Employment of Students (SPES), which aims to support financially-challenged students, including out-of-school-youth, and help them pursue and complete their education. After graduation, they are encouraged to join the company and are assisted in finding best-fit employment within the group.
Indeed, Max's win at the IIP International Awards spotlights its dedication to champion like-minded people who embody the same values they believe in, which is all about building well-loved brands with genuine food and proudly-Filipino service.