One month since its world premiere at the 24th Busan International Film Festival (BIFF), the latest work of Brillante Ma Mendoza has been selected by prestigious film fests in Taiwan, India, Estonia, and Egypt. "Mindanao" is part of the lineups in the Taipei Golden Horse Film Festival (TGHFF), Kolkata International Film Festival (KIFF), Tallinn Black Nights Film Festival (TBNFF), and Cairo International Film Festival (CIFF), which are all happening in November.
Penned by Honee Alipio and starring Judy Ann Santos and Allen Dizon, the film is about the struggles of Saima (Santos), wife to military medic (Dizon) and mother to a young girl battling cancer. "Mindanao" was screened on November 8, 12, and 18 as part of the Viva Auteur section at the TGHFF. The TGHFF, which started in 1980 as a non-competitive event, is scheduled from November 7 to 24.
Mendoza's 123-minute film is also an entry to Kolkata's International Competition: Innovation in Moving Images. It had screenings on November 11 at Nazrul Tirtha and November 13 at Rabindra Sadan. The 25th KIFF screened 366 movies in 17 venues from November 8 to 15.
"Mindanao" had its European premiere at the TBNFF in Estonia on November 15, followed by screenings on November 19 and 21. Tallinn is among the 15 A-list film festivals rated by the International Federation of Film Producers Associations. According to the synopsis provided by Liisi Rohumäe on the Tallinn website, "Undoubtedly this is a difficult movie, but there is also lightness here. Enchanting Mindanao catches your breath." The Tallinn film fest runs from November 15 to December 1.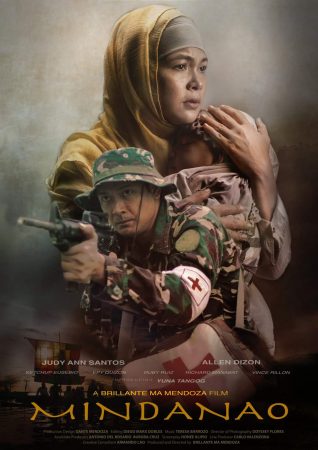 After Tallinn, "Mindanao" headed over to Cairo, home to the oldest yearly film festival in Africa, the Arab World, and the Middle East. "Mindanao" is part of the CIFF's International Competition. The CIFF, which is from November 20 to 29, is also an A-list film fest. "Brillante Mendoza expresses a complex of human emotions depending on a harsh and painful reality as well as a very special life experience, in a unique cinematic style that combines animation to tell the epic tale of Princess Mindanao who casts a shadow over the civil war that tore the Philippines apart," Rasha Hosny wrote on the CIFF website.