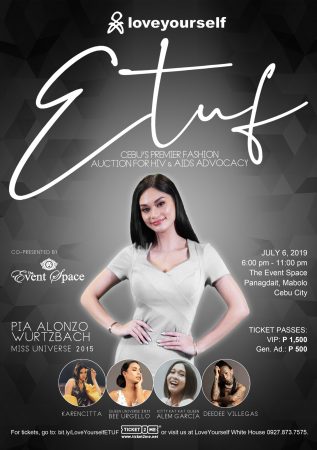 Miss Universe 2015 Pia Wurtzbach will walk the runway as she headlines the LoveYourself Cebu's ETUF: Cebu's Premier Fashion Auction for HIV/AIDS Advocacy on 6 July 2019 at 6:00 p.m. at the Events Space in Cebu City.
Together with Wurtzbach, who will don the fashion of Cebuano designers and stylists, are Queen Universe 2019 Bee Urgello, social media darling DeeDee Villegas, social media sensation Alem Garcia, and international Cebuana singer-songwriter and LoveYourself ambassador Karencitta.
A portion of the proceeds from all gowns to be auctioned off in ETUF will go to LoveYourself's HIV causes in Cebu. ETUF tickets prices starts at P500 for general admission, and P1,500 for VIP. Avail of the tickets here: bit.ly/LoveYourselfETUF or contact LoveYourself White House at 0927-873-7575 or (032) 367-7016.
"ETUF is a Cebuano gay lingo for white, which symbolizes one's pure heart to help the HIV advocacy like our ambassadors, supporters, and of course the volunteers who dedicate their time and efforts to help the Cebu community. By continuously doing so and inspiring others, the runway for the HIV and AIDS will be cut short sooner," says Raychie Lomongo, Head of Events for LoveYourself Cebu.
This fundraising event is co-sponsored by The Events Space.
According to LoveYourself Cebu head Jan Shaltiel Vincent Estrada, "ETUF is not your typical fashion show for it will be a celebration of the ingenuity of Cebu artists and talents, while advocating for greater causes for the Cebuano community."
To know more about LoveYourself's services, visit www.loveyourself.ph