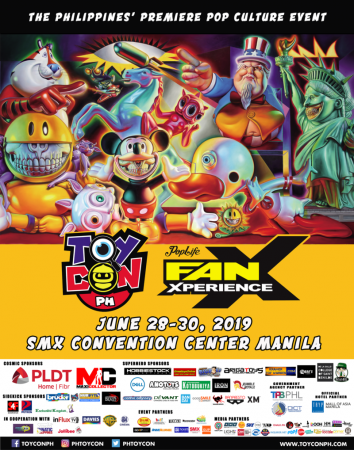 Leading digital services provider, PLDT powers Asia's biggest and longest running toy and collectibles convention, Philippine Toys, Hobbies, and Collectibles Convention—better known as TOYCON PH on June 28-30 at the SMX Convention Center.
The event is known to be the top pop culture playground in Asia that showcases Filipino creativity, innovation, and talent through toys, games, entertainment and digital content. This is one of the ways PLDT Home Fibr goes beyond simply delivering world-class digital services and provide high-quality entertainment experiences for the Filipino families. It also aims to help Filipinos launch their talents on the global stage and create a mark on the international pop culture scene.
Headlining as the marquee TOYCON PH exclusive collectible is the Zeta Manila Killa PH Colorway, designed and created by Quiccs Maiquez, who recently bagged the Toy Designer of the Year and Toy of the Year honors at the Designer Toy Awards in New York City.
Another highlight of the three-day convention are big local and international celebrities, guests, and comic book artists. From international stars Steven Ogg who played the role of Simon in AMC's The Walking Dead, Michael Cudlitz, who played Sgt. Abraham Ford on The Walking Dead, and World of Dance Team of the Year Academy of Villains, to Marvel artists Steve Gan, Ed Tadeo, and Harvey Tolibao along with DC artist Raymund Bermudez, award-winning comic creator Heubert Khan Michael and legendary Filipino komikero Pol Medina, Jr. – all these big names will grace the event.
That's not all—other big things are happening, including the unveiling of the tallest Batman statue in Asia, the finals of the World Cosplay Summit Philippines, a Mobile Legends tournament, and the crowning of the Pinoy Pop Culture Icon Award to legendary names!
To make things even more exciting to its subscribers, PLDT Home Fibr hosted a social media promo and chose 5 lucky winners last June 27 to meet and greet Steven Ogg. Each winner received two free entrance tickets and Meet & Greet passes for June 30, Sunday.
Avid game streamer and cosplayer Dexie Diaz will also give a tour around the PLDT Home Fibr booth and share a rundown of what's happening at the event. Ten lucky subscribers will get a chance to meet and greet the up and coming vlogger and
cosplayer.
If you're a huge geek culture fan, toy collector, or simply looking to have fun, don't miss out on TOYCON PH 2019 powered by the Philippines' fastest fixed network, on June 28-30 at the SMX Convention Center, Pasay City!