Filipino audiences have the rare privilege of getting inside the real-life story of music legend Elton John in its full, controversial splendor as Paramount Pictures' Rocketman has been rated R-13 without cuts by the Movie and Television Review & Classification Board (MTRCB).
Watch the new Rocketman TV Spot here.
The Board has deemed Rocketman suitable only to viewers thirteen (13) years old and above as the film contains depiction of drugs, sexual activity, violence, suffering and foul language.
This is a very encouraging development for the Filipino audience and film industry as it signals our institution's commitment to artistic freedom, inclusion and liberalism.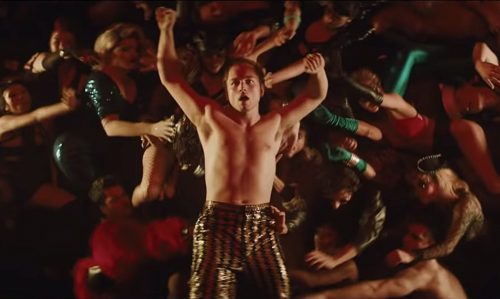 One of the most acclaimed films of the year — with a Certified Fresh rating of 90% at Rotten Tomatoes — Rocketman is an epic musical fantasy about the incredible human story of Elton John's breakthrough years. Directed by Dexter Fletcher, the film follows the fantastical journey of transformation from shy piano prodigy Reginald Dwight into international superstar Elton John.
This inspirational story – set to Elton John's most beloved songs and performed by star Taron Egerton – tells the universally relatable story of how a small-town boy became one of the most iconic figures in pop culture. Rocketman also stars Jamie Bell as Elton's longtime lyricist and writing partner Bernie Taupin, Richard Madden as Elton's first manager, John Reid, and Bryce Dallas Howard as Elton's mother Sheila Farebrother.
In his film review in Variety, critic Peter Debruge writes, "Egerton effectively plays the pop star as that rarest of movie archetypes: a gay sex symbol. As such, can its much-touted love scene truly be considered gratuitous when an entire community has been so underrepresented in the arena of studio-sanctioned snogging?"
Meanwhile, Time Magazine's Stephanie Zacharek applauds, "'Rocketman' is magnificent and ridiculous, a feathered melanage of clichés and originality, of respectful homage and unrepentant nostalgia. Sometimes it's comfortingly conventional; other times it's gloriously off the charts. Even when it doesn't quite work, it's just so damn alive, meeting right at the intersection of the human heartbeat and the also-human love for shiny things."
In Philippine cinemas June 19, Rocketman is distributed in the Philippines by United International Pictures through Columbia Pictures.