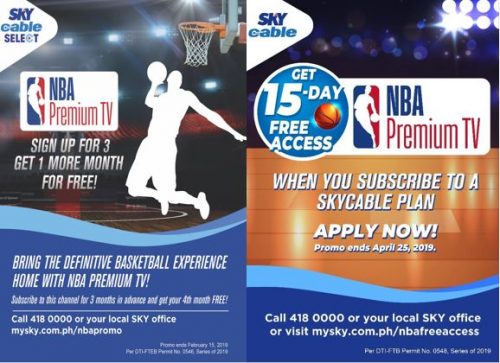 SKY is starting the year bright as the NBA playoffs near—the return of NBA Premium TV with promos in store for subscribers.
New SKYcable subscribers can enjoy a free 15-day trial of NBA Premium TV. This promo is available until April 25. Meanwhile, existing subscribers who pay three months in advance for NBA Premium TV via SKYcable Select will get an additional one month access for free. This offer is up for grabs until February 15, 2019.
Don't miss the chance to see the ensuing developments in the Eastern conference where the Toronto Raptors are still in command with their five-game winning streak after a big win over the Boston, and in the Western conference where the while the top spot is still up for grabs with Denver Nuggets and Golden State Warriors tied with 29 wins.
Apart from the games, tune-in to all the commentaries, specials and documentaries the channel offers plus a little bit news about the lives of individual basketball players.
Call 418 0000 or your local SKY office or visit www.mysky.com/nbafreeaccess for the 15-day trial or www.mysky.com/nbapromo for the 3+1 promo to subscribe.