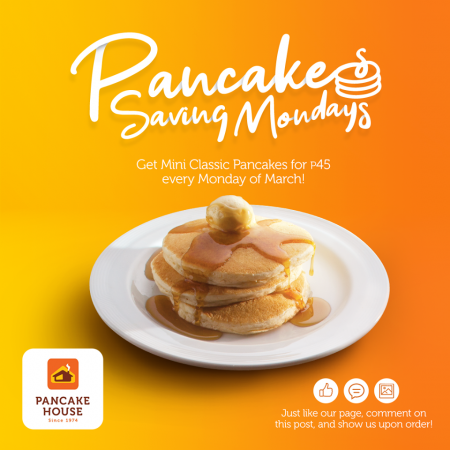 It's quite ironic how the first day of the week can also be the most dreadful. The mad rush to school and the workplace, coupled with stressful traffic jams make Mondays an unforgiving day for most urban warriors. Good thing that Pancake House now serves a delicious new offering that is sure to take away the Monday blues!
Pancake Saving Mondays offers Pancake House's freshly flipped Classic Pancakes for everyone to enjoy, this time with an even more exciting twist. Every Monday for the entire month of March, diners can have a hearty fill of three mini Classic Pancakes for only P45.00. Best paired with a steaming cup of coffee or a refreshing cold drink to perk up the day, this exclusive offering makes Mondays sweeter and echoes the goodness of home cooking, with no minimum purchase required.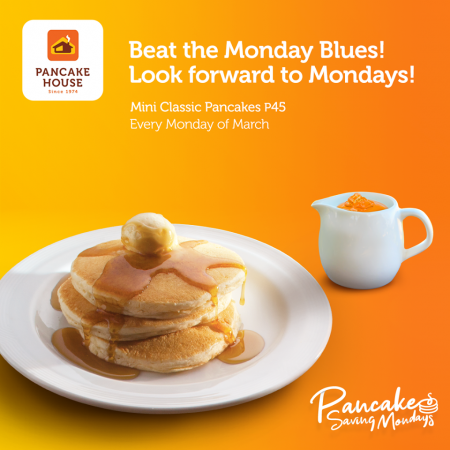 The iconic restaurant's signature Classic Pancakes is a popular comfort food staple for many. As it celebrates National Pancake Month, Pancake House gives its customers more reasons to troop to their nearest branch and start the week on a positive note with Pancake Saving Mondays.
"We know how challenging Mondays can be and we want to make sure we help make it light and easy for our diners by bringing positive vibes and serving up mini versions of our bestselling Classic Pancakes," says Cherry Hernandez, Senior Marketing Manager of Pancake House. "We invite everyone to make all remaining Mondays of the month more delightful by celebrating National Pancake Month with us, where it's #AlwaysAGoodChoice!"