After 20 years since its very first staging, The Dingdong Avanzado Golf Classic is back.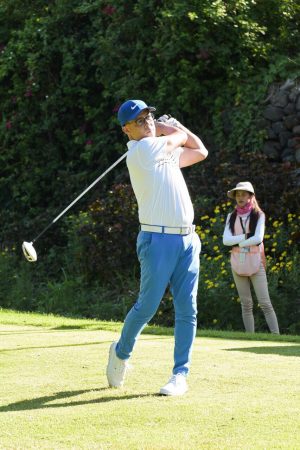 Certified OPM music icon Dingdong Avanzado will again host a golf tournament dubbed as the 3rd Dingdong Avanzado Golf Classic to be held this July 9, Tuesday, at the historic Valley Golf Club in Antipolo City. This marks the 3rd time that Dingdong will host a golf tournament. The first one was held in 1999 at the Eastridge Golf Club in Binangonan, Rizal when he was still a Quezon City Councilor. The 2nd one was held in 2002 at the Alte Golf Club in Guam USA- in partnership with The Filipino Community of Guam.
When asked why it took so long for him to mount the 3rd one, Dingdong Avanzado says that he wasn't really planning on doing another one but when he was asked by his Golf Group to do a golf tournament in celebration of his birthday, he thought of using the event to help raise awareness and acceptance for Autism.
Dingdong Avanzado was first introduced to Autism when he found out that 2 of his nephews were diagnosed with the mental disorder. As they were growing up they began to develop special gifts in art and Music. This heightened Dingdong's interest with Autism even more. One day, he was approached by his brother in law, Ljay Sumulong, who is the president of the Autism Society Philippines-Antipolo Chapter, to do a concert fund raising in Antipolo City to help launch the group and to create more awareness. That's when he decided that instead of doing a concert, "why not kill 2 birds with one stone?" Stage a golf tournament and use that tournament to support his advocacy- Autism awareness and acceptance. There's so much to learn from them and about them. And Dingdong also shares in the vision that one day we will begin to understand more about Autism and create a more accepting society for these specially gifted individuals.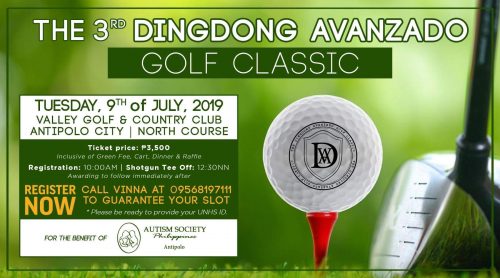 The Dingdong Avanzado golf classic will be participated in by prominent businessmen as well as top celebrities who equally share Dingdong's passion for golf. Some of the celebrities that will vie for the Dingdong Cup are Tonton Gutierrez, Arnold Clavio, Ogie Alcasid, Noel Cabangon, Glydel Mercado, Randy Santiago, Samantha Lopez, Nadia Montenegro, Buboy Garovillo, Paolo Santos, Louie Ocampo, Jaime Fabregas and Zanjoe Marudo to name a few.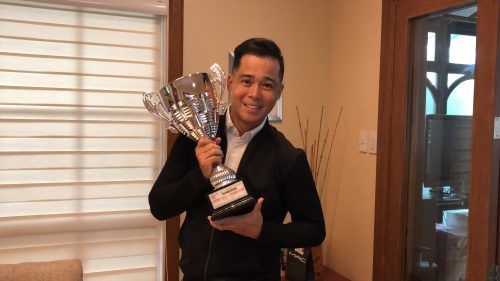 Dingdong feels very thankful to all his sponsors who have who have so generously given so much to support his advocacy and have become partners in staging this event. He also appreciates the full support of his wife Jessa Zaragoza and Daughter Jayda who also believes in his advocacy as well as his entire golf team who has been working tirelessly to ensure the success of the golf tournament.
 "Right now, I just feel so blessed and appreciate everything that I have. When you've lasted this long in the business and you have all this people showing their love and support for you it makes you feel that you must've done something good in your lifetime. That's why I make it a point to Pay it forward" says the Original Prince of Pinoy Pop.