Bazaars are one of the things that we see during the Holiday season cropping up like flowers all over the metro. These bazaars are a great place to find cheap but good quality and unique goods perfect for gifting.
This Holiday season, you don't nneed to go all the way to Dapitan Arcade because Ayala Land brings all their best and brightest concessionaires under one roof to offer their best products at Cloverleaf Balintawak in Little Dapitan.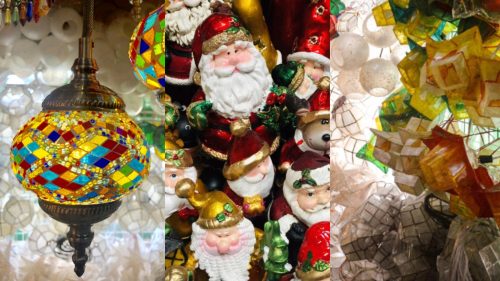 The Christmas season wouldn't be complete without Christmas decorations and since Dapitan Arcade is all about accentuating local artisans, all these are made local to support our local market. You may also find Capiz light fixtures and other ornaments that can be used to decorate the home. If you are looking for wooden handicrafts and furniture, Little Dapitan also has a wide selection of skilled artisans who are present and will be selling their local handicrafts as well as flower arrangements, vases, and centerpieces. These products are not only for personal home decor but they make very nice gifts this holiday season.
Ayala Malls Cloverleaf Balintawak makes it easier to shop for these local artisan products by bringing them closer to the metro and making them more accessible to those who don't have the luxury of time to travel long distances to get their hands on these amazing local products.
Food concessionaires will be present as well to serve snacks and drinks so this is also a great place to hang out with your family on weekends especially when there are weekend activities like Flower Arranging, Christmas Basket Assembling, Christmas Wreath-Making, and Acoustic Session.
Here's a list of some of the concessionaires:
Native Christmas Decor by Cesar V. Ruedas
Capiz Lights by Gina
Christmas Decor by Mylene Llanuza
Home Decor by Benjie Conception
Unique Pots and Vases by Lorena Anasco and Lik Ruedas
Wood Crafts by Lik Ruedas and Shyra Centeno
The bazaar opens last October 18 and will be available until the end of December at Cloverleaf Balintawak open parking. Little Dapitan is a smaller, curated version of Dapitan Arcade and it brings the best of Dapitan Arcade handpicked for you! Enjoy all the local artisan finds and fun and unique gifts at Little Dapitan this Holiday season.
Tag @CloverleafPH and use the hashtags #Cloverleaf and #LittleDapitan when posting about the bazaar.