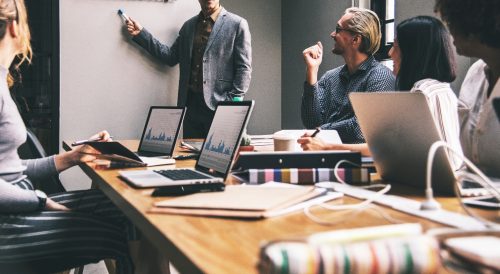 In today's fast-paced digital world, businesses realize the value of integrating tools and platforms, like Enterprise Resource Planning (ERP) software, to eliminate the complexity of some of their processes. It has also become a necessity for businesses of all types and sizes, especially in streamlining accounting processes, reducing costs, and achieving improved decision-making processes.
With the rise of cloud computing integration, as well as artificial intelligence, the demand for ERP software has increased more than ever as businesses embark on digital transformation. They also integrate it with other enterprise tools, including CRM and HRMS, among others, not just to streamline processes but also, to reap its other benefits.
For businesses looking to upgrade their systems, the question now begs: what are the things they need to watch out for to make better use of their ERP software solution this 2019?
Genie Technologies, Inc. Chief Operating Officer Mahesh Gopinath shared the top ERP trends that businesses should know as listed below:
Mobile Accessibility. Gone are the days when ERP systems integrators do not pay much importance to mobile accessibility. Nowadays, they take a closer look on ways to make for an ERP system that is mobile-centric to enable users, especially employees, to work on their tasks wherever they are and whenever they need to.
This is not a new concept, though. The Bring Your Own Device (BYOD) demands have been around for years and, businesses have been focusing on implementing policies to make ERP systems more accessible.
Innovative Features. While there are plenty of ERP tools in the market, only a few have innovative and flexible features that most businesses need. Fortunately, integrators not only offer ERP tools but also, the expertise they have in implementing them.
Adaptability. Since most businesses have embarked on their digital transformation journey, the conversations now also focus on the ability of the ERP system to help in extending existing applications, building new solutions, and integrating other technologies on a flexible, scalable, and secure platform.
Intelligence. Over the last couple of years, businesses have seen a drastic change in ERP architectures as developers have utilized Artificial Intelligence (AI) and analytics technologies. With this smart feature, ERP can now support real-time responses that can help achieve greater business outcomes with built-in intelligence and prescriptive guidance to generate successful forecasting and planning.
GenieTech helps businesses by looking closely at their specific needs and recommend a fierce plan to tackle all of them through Microsoft Dynamics D365, tailor-fitted to their requirements.
With GenieTech and Microsoft Dynamics D365, they unify accessibility, innovation, adaptability and intelligence for finance and operations helping businesses to better evaluate and manage risk, build innovative corporate strategies and grow your business. Microsoft Dynamics 365 for Finance and Operations helps businesses adapt quickly to changing market demands and drive rapid business growth.
.