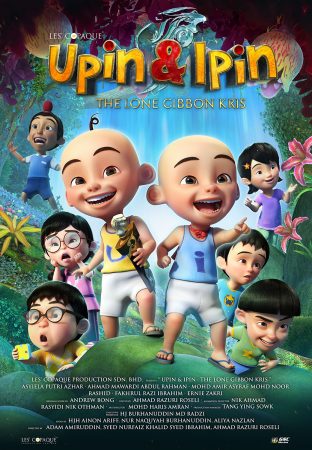 If you have kids and have a Disney channel on TV at home, most probably you already stumbled
on one of the daily episodes of "Upin & Ipin." Well, there is a good news for you and your kids as "Upin & Ipin: The Lone Gibbon Kris" is set to be screened this August 28 in Philippine cinemas.
"Upin & Ipin: The Lone Gibbon Kris" is tagged as the most expensive Malaysian film in history reaching almost RM 20 million ($4.84 million USD) and roughly took five years for the entire production crew to finish this animated sequel. Executive producer
Burhanuddin Radzi
ensures
that their latest masterpiece could follow the same quality of the international animated films and also elevate the standards of Malaysia's animation industry.
The original Malay-language version is simultaneously released last March in Malaysia, Singapore and Brunei. It was well received by the fans, especially in its own country as it grossed around RM25 million in just three weeks.
It now stands as the highest-grossing local animated film in Malaysian cinema. The previous holder of the record was "Incredibles 2," which made approximately RM21.7 million in local cinemas.
However, the Disney•Pixar film accomplished the milestone in a span of three months where Upin & Ipin only needed three weeks to take over such record.