Europe awaits!
Get the amazing once-in-a-lifetime chance to visit Europe by joining the Oreo Spider-Man: Far From Home promo. In line with the much-anticipated screening of Spider-Man Far From Home, Oreo is giving away awesome Spider-Man merchandise, and an incredible trip for two to Europe.
To add more action to the promo, Oreo recently hosted a day full of Spider-Man inspired activities, aptly called the Oreo Spider-Man Power of Play in Robinsons Ermita. There, Oreo fanatics and Spider-Man fans had the opportunity to try cool challenges such as the Oreo Spider-Man Power Wall, Oreo Spider-Man Power Climb, and Oreo Spidey Swing. Celebrities such as Eric 'Eruption' Tai, Ylona Garcia, Gino Quillamor and Noel Agra joined in on the fun, and tried all the incredible offerings Oreo had in store.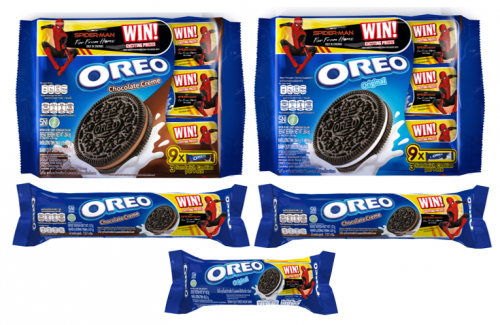 In case you missed this spectacular day, don't worry! The great news is that you can still win amazing Spider-Man items and a trip for two to Europe. To join the raffle, simply purchase limited edition Oreo Spider-man packs and register at Oreospiderman.com. Participants must take a snap of the receipt as proof of purchase of their limited-edition Oreo Spider-Man: Far From Home pack. Each pack is equal to one entry, so the more packs you buy, the more chances of winning!
Incredible Spider-Man merchandise such as hoodies, t-shirts, bento lunch boxes, as well as Sodexo gift certificates and so much more are up for grabs as secondary prizes. One lucky winner will win a once-in-a-lifetime trip for two to Europe, which will include a city tour, a 4-day and 3-night hotel stay, roundtrip ground transportation between the airport and hotel, and a special gift bag from Oreo.
The limited-edition Oreo Spider-Man: Far From Home packs are currently available in leading supermarkets and department stores nationwide. The Oreo Spider-Man promo period is from June 1 to July 31, 2019, and all residents in the Philippines nationwide are eligible to join the promo. Winners of the promo will be announced shortly after the raffle draw. Winners must present their purchase receipt and winning limited-edition Oreo Spider-Man packs upon claiming their prizes.