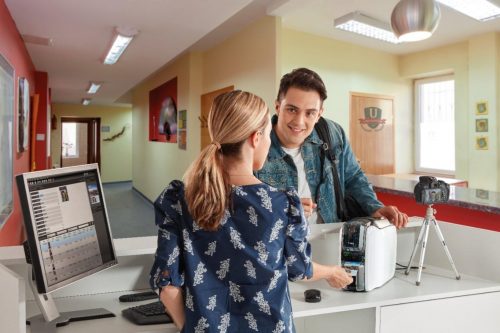 Zebra Technologies Corporation, an innovator at the edge of the enterprise with solutions and partners that enable businesses to gain a performance edge, has announced the ZC100 and ZC300 series card printers received a Red Dot distinction in the 2019 Product Design category. This is the fifth consecutive year Zebra has received this international honor.
Zebra's design team puts the customer at the heart of everything it does, which is central to this consistent recognition of its product portfolio. The ZC100 and ZC300 series design process was one of immense collaboration, pooling insights from designers, engineers, sales teams and customers.
"Zebra is delighted to receive this prestigious recognition of our ZC100 and ZC300 series card printers by Red Dot," said Curt Croley, Senior Director, Innovation and Design, Zebra Technologies. "Our design leverages Zebra's best-in-class card printing technologies combined with a thoughtful user-centered design approach. Zebra's commitment to creative, intuitive and effective design for enterprise customers helps us deliver unprecedented visibility and productivity at the edge of our customers' operations."
The ZC100 and ZC300 series card printers securely can print a wide range of identification, payment, and membership cards for the retail, finance and hospitality sectors. The design addresses key end-user needs with user interface simplicity, self-aligning media, and intuitiveness of card loading and removal. These printers offer unique industrial design with the slimmest profile and lowest clearance in their class. They can be installed in space-constrained environments such as under a counter or shelf.
In the Philippines, Zebra's customers in the retail and hospitality industries have shown impressive improvements in their end-users' journey satisfaction with the ZC100 and ZC300 series card printers.
"I would like to congratulate the laureates sincerely on their wonderful success," said Professor Dr. Peter Zec, founder and CEO of Red Dot, in reference to the winners. "The fact that their products were able to satisfy the strict criteria of the jury bears testimony to their award-winning design quality. The laureates are, thus, setting key trends in the design industry and are showing where future directions may lead."