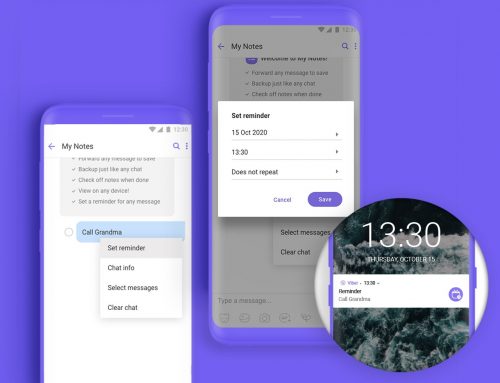 As the world's pace speeds up by the day and hectic schedules are made even more chaotic by pandemic-induced challenges, reminders and to-do lists become crucial in maintaining control over our lives. But with endless messages, birthday reminders, delivery updates, conference call schedules, and other notifications popping up from our devices, it has become incredibly easy to be distracted by the several applications calling for your attention.
All this constant stimulus overloads our minds, keeping us from performing quality, long-term work and muddling our thinking and decision-making . That's why we should try to decrease the notifications we get especially during the work day, and limit our application usage to those that can really help us get more things done in our days.
Rakuten Viber, one of the world's leading apps for free and easy communication, launches a feature in My Notes enabling users to set reminders for tasks and other important events. The new capability enables users to keep track of all their messages with colleagues, family and friends, as well as all important reminders in a single easy-to-use app that emphasizes user privacy.
Users simply long-tap any message in My Notes and tap "Set Reminder." They are prompted to select a time and date for the reminder and decide whether they want it to repeat, and the reminder will pop up on their phone at the selected time. This feature comes on top of other capabilities available in My Notes, allowing users to:
Take down notes for tasks, events, or other purposes
Mark their tasks as "done," as well as hide finished notes.
Forward messages from other chats to My Notes. Forwarded messages from other chats into My Notes will show from which chat they were forwarded, so the user always remembers the context.
"We recognize our users' need to maintain control over their lives and quickly adapt to a reality that changes, in many cases, by the minute. As such, Viber is happy to introduce this feature to help users streamline all their messages and reminders into one single app that is easy to use and actually values their privacy," said Anna Znamenskayal, CGO of Rakuten Viber.
So turn off your notifications from all the other apps when you're trying to focus. With just Viber, you can keep on communicating with important contacts and successfully checking all your things off your daily to-do list.