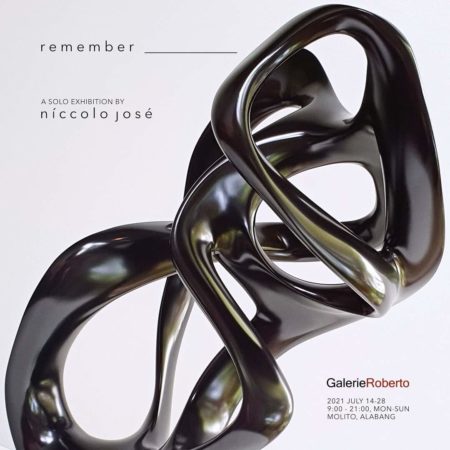 "Since last year, people would frequently begin conversations with "Remember…" for this exhibition, I wanted to highlight those we miss by sculpting abstracted forms that convey the psyche of togetherness. The pieces are meant to be a reflection of resonating moments we've had with others." Thus remarked the sculptor Níccolo José.
Most of the pieces are claimed wood, ebonized and lacquered, and mounted on sustainably-sourced marble or stone bases. Níccolo José deftly asserts the graceful and almost balletic contortions and distortions of the wood, a monolithic block astonishingly hollowed out, to release the vital form and shape that would convey, in abstracted and symbolic contour, such human emotions as affection and tenderness, joy and celebration, conveyed through the exaltation of dance, embrace, and flight.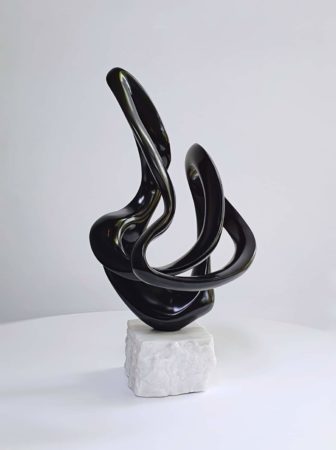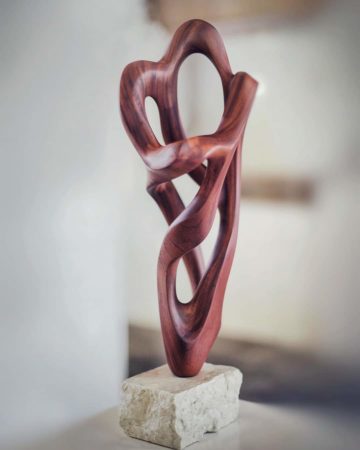 So enveloped are the sculptures in reflected light and air, that they seem relieved of mass and weight.
Declares Níccolo: "Coming out of this pandemic, I hope that everyone has a better sense of gratitude and appreciation for life and the borrowed time we spend with the people we are close to and love."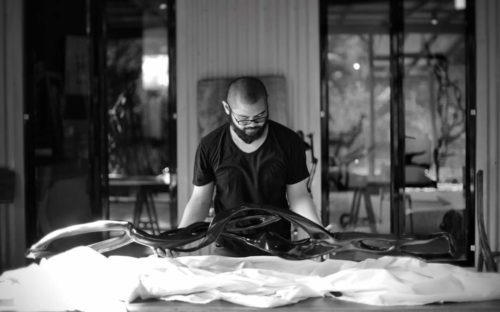 NÍCCOLO JOSÉ
VISUAL ARTIST, WOODWORKER
Níccolo José is a visual artist and woodworker who creates one of a kind sculptural furniture and abstract pieces. He is virtuoso with all kinds of Philippine wood, and under his fastidious coaxing, he frees his creations from their original confines. As an advocate for the environment, and inspired by nature and human anatomy, Níccolo crafts his work from up-cycled reclaimed old wood in order to breathe new life into the hardy material, and create soulful, fluid forms that invite the viewer into meditative and introspective states.
Since he was a child, Níccolo always had a deep love for the outdoors and sought it out wherever he could. This lead him to pursue further studies in Lewis & Clark College (Portland, Oregon, United States). There he earned a double degree in Environmental Studies and Studio Art.
Níccolo's personal study and care for ergonomics, especially when it comes to his sculptural chairs, has and continues to help his collectors. His attention to this key element for his works has brought surprise to many, that wood can be a gentle, healing, and soothing material when shaped masterfully.
For Níccolo, every piece of wood has its own story; he gets inspiration from the conditions that contributed to their uniqueness. By studying its color, grain, natural forms, strength, and flexibility he has an intimate relationship with his materials. This care to detail when crafting his woodworks results in soulful art that he hopes engages people in a multi-sensory manner.
Níccolo's works are held in galleries and private collections around Asia, Central America, North America, and Europe.
Remember ______________ A Solo Exhibit by Níccolo José happens on July 14 – July 28, 2021 at Galerie Roberto, Molito Alabang, Muntinlupa City.