Filipinos are warriors by nature. With the pandemic, life still must go on. And one can see in the business district is still trudging on even when we know the virus is just around the corner, putting people at risk each time they go out.
Even so, this scenario is happening worldwide and we cannot just stop life and wait for this virus to magically disappear.
Thus, in this day and time, we have to follow the new norms especially when in limiting ourselves in meeting outside for discussions and having to gear up each time. The best solution would be to have our own personal bubble each time we go out and using headphones or earphones.
During this pandemic, wireless earphones are becoming a necessity with different models coming out and one of a rather striking personal-space partner is the OPPO ENCO W31 and W51 True Wireless Headphones.
In choosing a personal space partner, we should put into consideration features such as the fitting, comfort, style, connection reliability, battery life, sound quality and of course, the price range. Let's see if these two OPPO units are able to compete with the current top trending market players.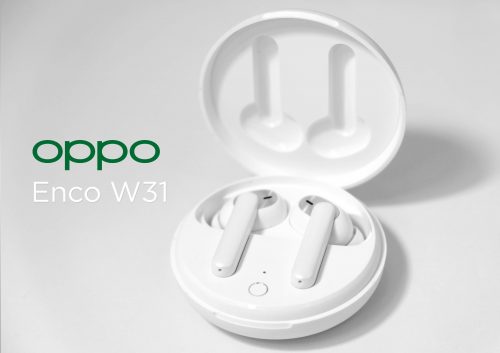 The OPPO Enco W31 is a lower model among the two and its features are:
Choice between Bass mode at Balance mode
Binary Low Latency Bluetooth Transmission which means it is connected actively with the source between the two separate earphones. Other models only have one earphone connected to the source. Therefore, theoretically speaking, you can use just the L or the R earphone unlike other earphones.
It has a dual microphone noise cancellation feature for voice calls in which OPPO uses dual-microphone beamforming feature, an environmental noise cancellation algorithm that can lessen outside noise to make your voice calls noise-free even in a windy environment.
Wearing Detection feature where it can detect if you have the earphones or not. This can help save battery when not in use.
Battery monitoring – You can see on your phone how many percent the battery life is for the left, right, and the charging case.
Dust and water resistant with IP54 Rating (The IP54 is an international standard that indicates protection against splashing water from any direction. Complete dust resistance is not guaranteed, but a small amount of dust will not affect the headphone's ability to function properly. This rating applies only to headphones themselves)
2.5hours for a full charge is about 15 hours of music playback and 12 hours of call time
Intuitive Tap Controls for Easy operation;
change audio mode by double tap on left earphone to choose between balance mode and bass mode
tap either earphone 3x to activate voice assistant
OPPO Enco W31 Earphones
S,M,L Eartips
Charging Case
USB-C Cable
Quick start guide and Warranty Card
Price: Php 2,990.00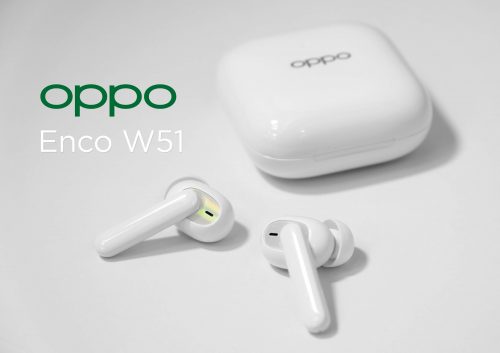 The more advance model is the OPPO Enco W51 which has the same features as W31, but MORE;
Equipped with new dual-core digital noise reduction chip and more advance hybrid noise reduction microphones for undisturbed listening experience
Triple microphone noise reduction for clear and carefree calls, even a single earphone can capture your voice clearly
Supports wireless charging (Qi Charging)
OPPO's First true wireless earphones to be equipped with a system-wide audio quality compensation algorithm to avoid loss of audio quality from noise reduction techniques. OPPO Enco W51 offers quality restoration of the audio for clean, uncompromised audio performance. Also, it is equipped with dual TPU composite graphene diaphragms to provide enhanced audio response and treble performance
Stunning Look at every angle
15 minutes of charge keeps the Enco W51 powered for 9 hours, and full charge lasts for 24 hours, Full Charge is around 4 hours only, which can keep you powered for a week! Say goodbye to low battery anxiety
Intuitive Tap Controls for Easy operation;
Tap left earphone twice to turn on/off the Noise reduction Switch
Tap right earphone twice to play Next Song or answer/hang-up calls
Tap three times on either earphone for voice assistant
Package inclusions are:
OPPO Enco W51 Earphones
S,M,L Eartips
Charging Case
USB-C Cable
Quick Start guide and warranty card
Price: Php 3,690.00
Having to review the 2 OPPO Enco earphones, they can definitely compete among the big names in the market today especially with its affordable price for everyone. It's a great gadget for the price and for the value in this advanced features. It's sure to make it big whether you choose the OPPO Enco W31 or the W51. For an additional of only Php1,700.00, the W51 would be a wiser choice with all the added features for your own personal space.
Noise off, World On with OPPO Enco now!