Expect awesome deals from Colgate-Palmolive  at 8.8 Mega Flash Sale on Shopee!
Colgate-Palmolive is the trusted brands by many Filipinos and they have products that caters for the whole family.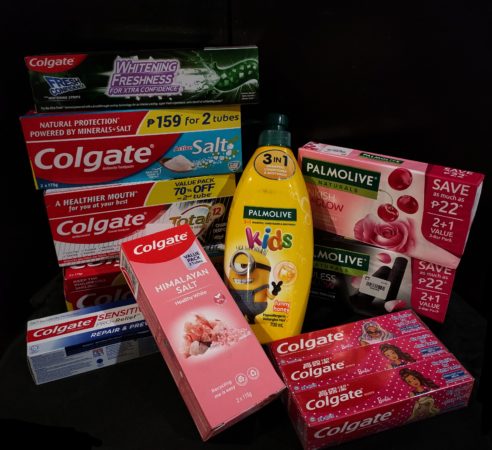 Colgate Triple Action Anti-Cavity Family Toothpaste 175g Twin Pack
Provides triple benefits with each brush. Cavity protection, white teeth and fresh breath for the whole family comes in white paste. Original mint flavor toothpaste brand is the most recommended by dentists.
How to Use: Brush your teeth with Colgate after every meal at least two times a day or as directed by a dentist or doctor. Brush thoroughly. Do not swallow. Spit out and rinse after use. For children 2-6 years old, use a pea-sized amount under supervised brushing to minimize swallowing. If used by children under 2 years old, it should be upon the advice of a dentist or doctor. In case of intake of fluoride form other sources, consult a dentist or doctor immediately.
Irish Spring Original Body Soap 3.7oz 6-Pack
The one that started it all! Get that crisp, classic scent you love with Irish Spring Original bar soap. Irish Spring Original bar soap delivers the original formula you love, with a fresh and clean scent to leave you feeling refreshed. Irish Spring Original bar soap provides 12-hour deodorant protection, so you can feel fresh throughout the day.
Palmolive Naturals Intensive Moisture Shampoo 600mL
Palmolive Naturals Intensive Moisture Shampoo's specialized formula with Coco Cream and Milk Protein extracts, instantly adds essential hydration to your hair for long-lasting softness. Enjoy a wonderful and luscious fragrance that lasts throughout the day.
To use, massage Palmolive shampoo on wet hair to create a rich lather and rinse. Repeat if needed. Nourish your hair for up to 24 hour softness with Palmolive Naturals Intensive Moisture Cream Conditioner.
Shopee 8.8 Mega Flash Deals Sale
Until August 8, Filipinos can enjoy promotions such as midnight flash deals, ₱8 flash deals, and free shipping with no minimum spend at the Shopee 8.8 Mega Flash Deals Sale. Shoppers can also enjoy up to 90% off on a variety of brands.
Shoppers can also pay safely from their homes by going cashless with ShopeePay. On August 8, users can enjoy ShopeePay promotions such as up to 50% cashback on Bills Payment; 10% discount on mobile load; and ShopeePay ₱1 Deals from Puregold, Seaoil, Potato Corner, and more during over 33x flash timings. On August 7, shoppers should also top up their ShopeePay wallets through their debit card, online banking, or over-the-counter payment partners with a minimum of ₱300 for a chance to win ₱20,000 ShopeePay credits.
For more information about the 8.8 Mega Flash Deals Sale, visit https://shopee.ph/m/8-8.
Download the Shopee app for free via the App Store or Google Play.