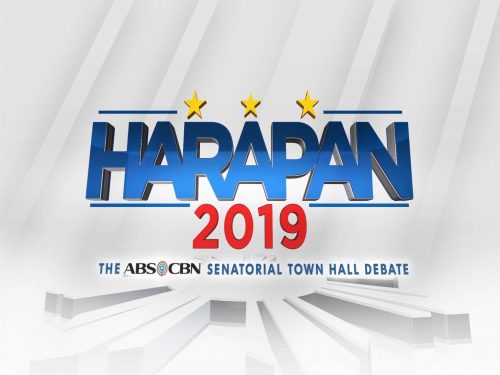 Now on its third week, the "Harapan 2019: The ABS-CBN Senatorial Town Hall Debate" will feature 19 more senatorial candidates who are up to prove they are worthy of the people's vote this Sunday (March 3) in two debates that will air LIVE on ANC, the ABS-CBN News Channel, DZMM TeleRadyo and various ABS-CBN platforms online.
Viewers can look forward to hearing the stands and platforms of candidates Shariff Albani, Gerald Arcega, Marcelino Arias, Balde Baldevarona, Jesus Caceres, Melchor Chavez, Charlie Gaddi, Emily Mallilin, Jose Sonny Matula, Luther Meniano, and Allan Montano LIVE on ANC, DZMM TeleRadyo, news.abs-cbn.com, iWant.ph, TFC.tv, and on the ABS-CBN News Facebook page and ABS-CBN News YouTube channel at 12 nn.
Senatorial hopefuls Ernesto Arellano, Toti Casino, Leody De Guzman, JV Ejercito, Elmer Francisco, Rj Javellana, Dado Padilla, and Dan Roleda, meanwhile, will also face the tough questions of anchors Karen Davila and Alvin Elchico, and representatives of Filipinos also LIVE on the same platforms at 7:00 pm.
Viewers of ABS-CBN can watch 7:00 pm debate on Sunday (March 3) in the same timeslot after "GGV." The 12:00 noon debate will be telecast in full, with no cuts, on March 17 at Sunday's Best.
Harapan 2019, which had previous legs last February 17 and February 24, has made it to the top of Twitter's list of trending topics, with netizens posting their thoughts on the answers being given by the candidates.
With 36 participants in four debates this year, ABS-CBN is able to deliver on its pledge to give exposure to as many senatorial candidates as possible, to help the Filipino voting public make well-informed choices in the coming midterm elections on May 13.
"Harapan 2019: The ABS-CBN Senatorial Town Hall Debate" is part of ABS-CBN's comprehensive coverage for Halalan 2019.
Don't miss the third and fourth legs of "Harapan 2019: The ABS-CBN Senatorial Town Hall Debate" this Sunday March 3, LIVE at 12:00 noon and LIVE at 7:00 pm on ANC and ANC HD, DZMM TeleRadyo, online on news.abs-cbn.com, iWant.ph, and TFC.tv, and live on each platform's Facebook page, and the telecast on ABS-CBN's "Sunday's Best".