By Karen Joyce Yam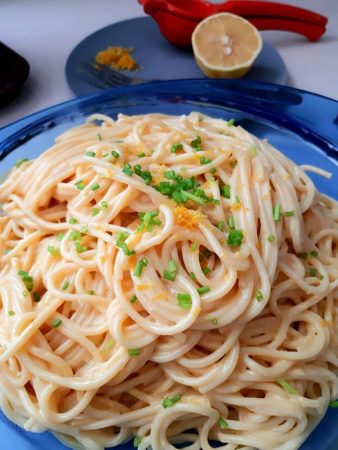 Pasta al Limone is pasta in a lemon butter cream sauce. The dish only has a few ingredients, so the quality of the ingredients is really important!
I ordered what I needed from landers.ph, and paid using the Paymaya virtual card. It's so convenient! There's no need to go out. Just order safely from home, pay via Paymaya, and wait for the scheduled delivery. You don't have to expose yourself to unnecessary risks.
Here's how to make the classic Pasta al Limone:
PASTA AL LIMONE (serves 6)
Ingredients:
Spaghetti (about 400g)
1 Lemon
1 box All-purpose cream
Butter (6 Tbsp – 8 Tbsp, adjust according to your preference)
Parmesan, about ¾ cup
Salt & Pepper, to taste
Procedure:
Boil spaghetti in salted water until al dente. While the pasta is cooking, prepare the sauce.
Thoroughly wash the lemon. Zest the whole lemon – get only the yellow skin and avoid getting any of the bitter white part of the lemon rind. Reserve some lemon zest for garnish.
Squeeze the juice from the lemon.
In a pan big enough to fit all the pasta: Put the lemon zest into the pan, add the all-purpose cream.
Heat gently over medium-low heat, stirring to mix.
When the lemon cream mixture is starting to bubble, add butter, 1 Tbsp at a time, mixing well each time until the butter has been fully incorporated into the sauce before adding the next one.
At this point, the pasta should be almost done. Check that it is al dente (or as soft as you prefer). Add the hot pasta to the sauce. You don't have to drain the pasta too much, a little pasta water being added to the sauce is okay.
Toss the pasta in the lemon cream butter sauce. Add the parmesan cheese little by little, until the Parmesan has melted. The sauce should be creamy.
Stir in half of the lemon juice. Do a taste test. If it's sour enough for you, don't add any more lemon juice. If you like it a bit more sour, add more lemon juice. Check if it also needs more salt.
Serve. Garnish with green herbs of your choice, usually parsley, but I had some green onions I wanted to use up. You may also grind some black pepper on top, if you wish.
That's it! It's really very easy to make, and being able to shop online for ingredients makes it doubly convenient! You don't have to physically handle any cash, so that's one less thing to worry about.
Learn more by reading their Quick Guide.
Don't have a Paymaya account? Get one one here today!
To use your PayMaya for your online orders, all you have to do is follow these easy steps:
After adding items to your cart, proceed to the checkout page.
Choose credit card as the payment option.
Open your PayMaya app and tap 'My Cards'
Choose Online Payment card number
Input your card details on the website and confirm your payment
You will receive an SMS from PayMaya, confirming your transaction
For online groceries, you can use your PayMaya in these stores:
Lazada – www.lazada.com.ph
Landers – www.landers.ph
Metromart – www.metromart.com
MyKuya – www.mykuya.com
Fresh Produce – www.freshproduce.com.ph
Online Palengke – www.onlinepalengke.com