In line with its ongoing commitment in bringing safe, efficient, and high-performing power tools and accessories, leading power tool brand Bosch and rotary tool brand Dremel, recently concluded its annual Power Tool Festival after 6 months of festivities. Bosch and Dremel brought their roster of power tools to leading malls in Ermita, Pasig, Tacloban, Bacolod, Imus, Jaro Iloilo, and Iloilo City. Most recently, the roadshow culminated in a Woodworking Assembly held in Taguig City.
The roadshows have gathered hundreds of end-users, such as the professional contractors, woodworkers and enthusiasts, to reinforce the importance proper tool handling around the workplace, while demonstrating the strength, mobility and leading-edge quality of the Bosch power tools and Dremel rotary tools.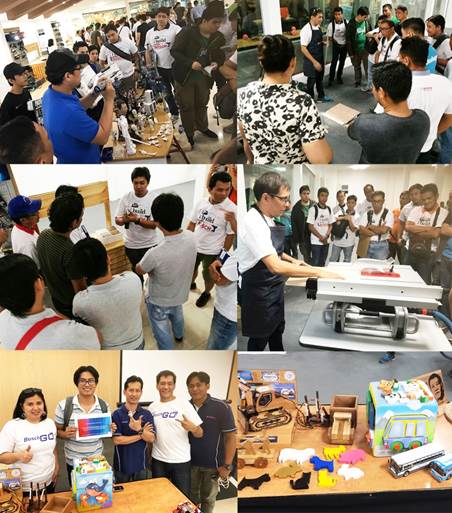 Putting education at the forefront of its efforts, Bosch and Dremel have brought their ambassadors Bosch Cordless Ambassador Paco Pili, Bosch Ambassador Sonny Limjap, Donald Lee and Dremel Ambassador Dennis Mendoza – to all of the legs of the event to share to best practices on the proper use of tools, underlining on the user-protective features offered by the brand's cordless, heavy duty tools, measuring tools with green laser, Bosch GO, and other products.
Participants were given the chance to experience first-hand the power of the tools and work alongside the different ambassadors. Curious attendees were able to get in-depth insights from them, as well as from experts, about technical aspects and applications of the tools. Various fun activities, such as the Toy Making contest, were conducted with end-users to highlight the performance and efficiency of the Bosch line-up of power tools.
Toy Making Contest held in the Woodworking Assembly awarded Thomas Jefferson Hernandez, a graphic designer and traditional artist for a cosmetics brand in Caloocan City. Recognizing his craftsmanship and creativity using the Dremel rotary tools, Thomas' entry, the "Busy Box" – a magnetic cut-out kids' toy was lauded as the winning creation in the contest.
For more information on Bosch and Dremel, visit the Bosch website at www.bosch-pt.com.ph and the Dremel page at www.dremel.com.ph.