The Hotel Sales and Marketing Association of the Philippines (HSMA) recognized outstanding performers among their ranks in a glittering ceremony at the Manila Marriott Hotel recently.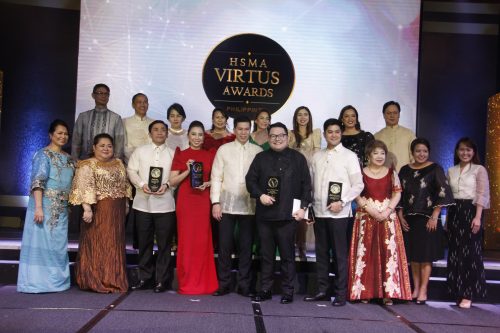 The Virtus Awards, considered as the most prestigious award-giving body for hospitality sales and marketing professionals, announced winners for Outstanding Sales and Marketing Associate, Outstanding Manager, Outstanding Leader and the best Sales and Marketing Campaign for 2018 during a Filipiñana-themed sit-down dinner with industry big-wigs, including Department of Tourism spokesman and Under Secretary Benito C. Bengzon, in attendance.
Prior to the event, successful candidates had to undergo a thorough selection and qualification process including a panel interview by an independent body composed of credible travel stakeholders, media and marketing professionals. From numerous entries, the final list of nominees included local and international hospitality brands from around the country namely Hotel Luna from Vigan Ilocos Sur, Conrad Manila, Luxent Hotel, Quest Hotel Cebu and Clark in Angeles City Pampanga, Seda Hotel Nuvali, The Ascott Limited in Makati City, BayLeaf hotels in Cavite and Intramuros, Manila, The Manor at Camp John Hay and Forest Lodge in Baguio City, Crimson Resort and Spa, Chateau Royale, Midas Hotel, Novotel Manila Araneta, Discovery Primea, AG New World Manila Bay Hotel, Le Soleil de Boracay, Marco Polo Davao, Marriott Manila, and Savoy Hotel Boracay.
The 2018 Virtus Prize were awarded to Timothy Santos of Bellevue Hotels and Resorts for Outstanding Sales and Marketing Associate, Mae Fatima Lolita Mationg of Makati Diamond Residences for Outstanding Sales and Marketing Manager, and Francis David of Hyatt City of Dreams for Outstanding Sales and Marketing Leader. The most-awaited accolade – Outstanding Marketing Campaign was awarded to the team of Erwin Dona from Las Casas Filipinos Azucar for their "Vanguard of Filipino Heritage" campaign.
HSMA's Virtus Awards 2018 was supported by Cebu Pacific and the Tourism Infrastructure and Enterprise Zone Authority (TIEZA).