Popular love team JaDine gives SKY subscribers a cinematic romantic treat as they return to television via SKY Pay-Per-View's feature of "Never Not Love You," until August 17.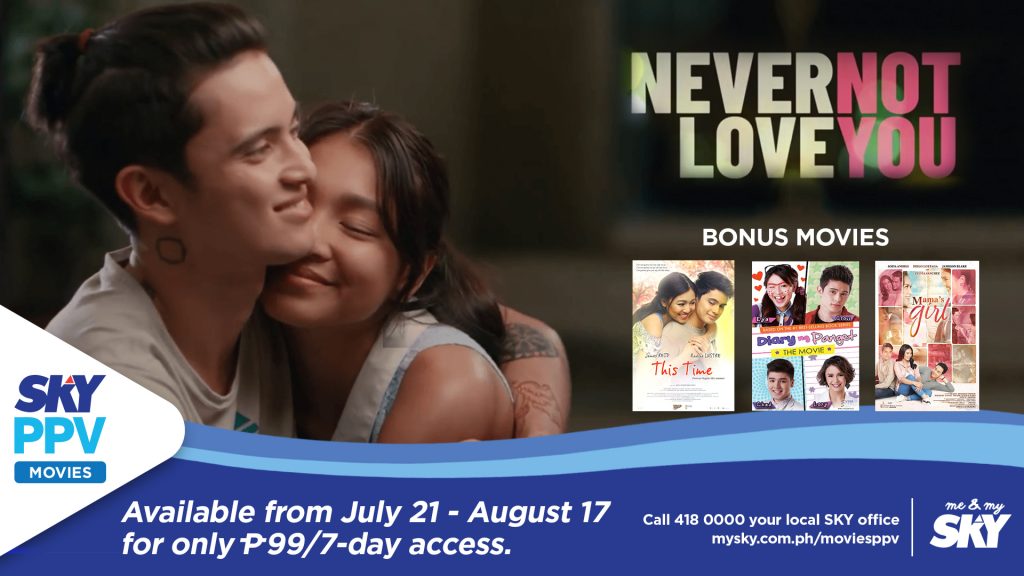 Nadine is Joanne, a probinsyana lass out to try her luck in Manila's advertising world. She crosses paths with Gio, a freelance graphic artist in a tattoo shop, and the two fall in love.
A wonderful relationship ensues, but as reality kicks in—Gio receives a job offer in London—the two are forced to make life choices and sacrifices. Find out how this development changed the course of their relationship.
Critical praise for Antoinette Jadaone's ninth directorial feature abounds and are centered on its ability to weave a story that does not stray too far from reality.
This is Nadine and James' sixth movie together and by far their biggest hit as a tandem. The movie also stars veteran actors Sharmaine Suarez as Ms. Bing, Nadine's boss in the story and Yayo Aguila as her mother.
Aside from "Never Not Love You," watch JaDine in "Diary ng Panget," and "This Time" plus Sylvia Sanchez and Sofia Andres' "Mama's Girl."