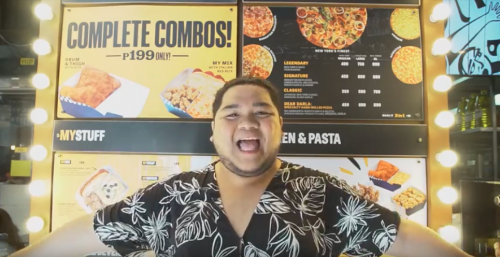 Book author and YouTube sensation Lloyd Cafe Cadena made it clear in his latest vlog that no lunch is complete without rice, and who can blame him? In the words of the comedian, "Kanin is life!"
Lloyd expressed his love for the Filipino staple by treating his most loyal fans to a post birthday lunch out at Yellow Cab Burgos Eats. The Cadenators, as Lloyd calls them, engaged in fun games, received special prizes, and satisfied their hunger with Yellow Cab's Complete Combos featuring the Drum & Thigh served with a side of—what else?!—rice. No birthday celebration is complete without a cake and Yellow Cab outdid themselves by surprising the birthday boy himself with a tower of Yellow Cab Drum & Thigh chicken in different explosive flavors, topped with candles.
With the Complete Combos, Yellow Cab has become the newest go-to lunch spot that fuels today's hustlers for a full day of work. At only P199.00, Yellow Cab regulars can now order the Drum & Thigh Complete Combo – two huge pieces of flavored fried chicken (drumstick and thigh) served with white rice. Choose from a variety of flavors: Sriracha, Hot Chix, Salt & Pepper, Korean BBQ, NY BBQ, and Garlic Parmesan.
Want both rice and pizza for lunch? Free to have both with the My Mix Complete Combo and get a folded pizza of your choice, crispy chicken poppers, and Italian Red Rice.
Hungry for rice like Lloyd Cadena and the Cadenators? Then head to your nearest Yellow Cab branch now and order the Complete Combos!