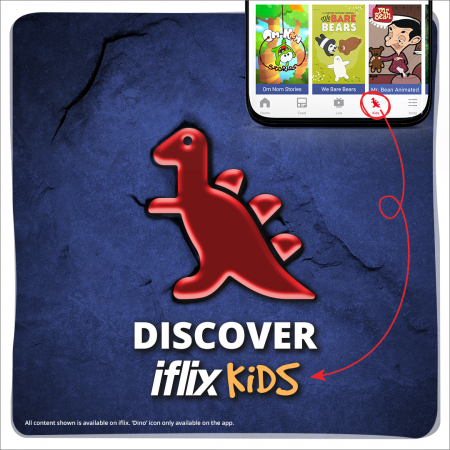 iflix Kids now has its own special section within the iflix app. Just look for their new mascot, the little dinosaur at the bottom right of your screen, to find hundreds of family friendly movies and television shows.
From new shows like Pinkfong Super Phonics Sing Along, Pinkfong Sing & Learn, Playing with Numbers with Pororo, Pinkfong Bedtime Lullabies, to top-rated shows the likes of Upin & Ipin, Paw Patrol (Mandarin), Paw Patrol (Malay), Dora the Explorer, Mulan, Brave and many more, iflix Kids has something for kids of every age.
"Kids content is a hit with our customers and we are making iflix Kids even easier to explore. By doing this we're putting our awesome kids entertainment, animation and educational movies and TV shows front and centre – all for the convenience of busy parents. Mums and dads, we're with you on this. iflix Kids is here for you and your little ones." Says Sherwin dela Cruz, Co-founder and Country Manager of iflix Philippines.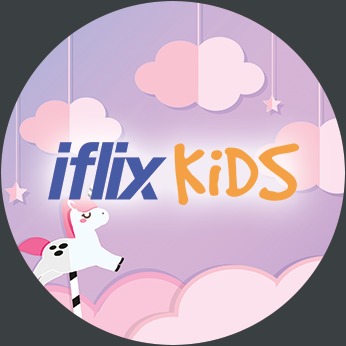 Brand New Areas to Explore
Adventure All The Way
(Mr.Bean Animated, Paw Patrol, Baby Shark)
For Big Kids
(Wolverine & The X-Men, G.I.Joe: Renegade)
For The Lil' Ones
(Ben 10, Transformers Rescue Bots)
For Pre-Schoolers
(Thomas & Friends, My Little Pony)
Fun & Magical
(Fushigi Boshi No Futago, Winx Club)
Mandarin For Kids
(Paw Patrol, Dora The Explorer)
Most Popular TV
(Avatar The Legend, Sing & Learn Pinkfong)
Most Popular Movies
(The Good Dinosaur, Inside Out, Happy Feet 2)
Songs For Kids
(Playing With Numbers, Pinkfong Sing Along)
Top Sing Along Sensations
PinkFong!
Pororo (English)
Robocar Poli
Tayo The Little Bus (English)
Coming Soon
Alice In Wonderland
Rapunzel
The Frog Prince & Little Princess School
Thomas & Friends Series 20-21
Super Series Favourites
Barbie Dreamtopia Series
Om Nom Stories S1-4
Pororo The Little Penguin (English)
Tayo The Little Bus (English)
Thomas & Friends S19
Tobot
Traffic Safety With Poli
Upin & Ipin S5-8
Now available to over one billion consumers throughout Asia, the Middle East and Africa, iflix has established itself as the clear market leader in video streaming. Offering consumers a vast library of top Hollywood, regional, and local TV shows and movies, including many first run exclusives and award-winning programs, and now news, each subscription allows users to access the services on up to five devices, including phones, laptops, tablets, and television sets, for viewing wherever, whenever.