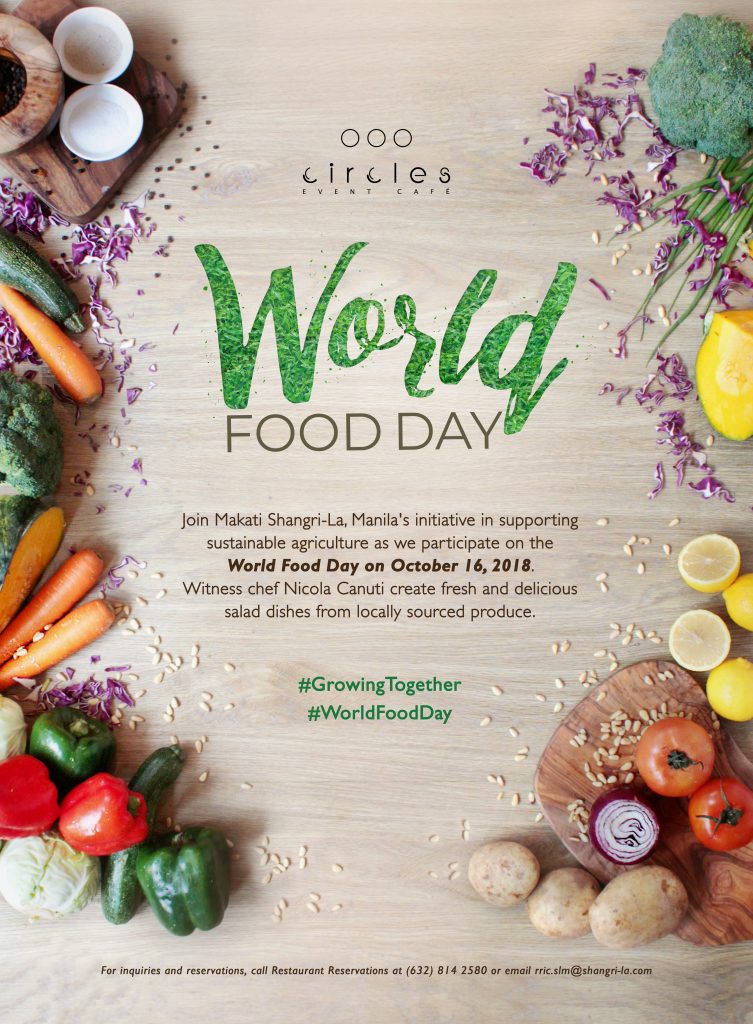 In celebration of World Food Day 2018, Makati Shangri-La, Manila focuses on the hotel's efforts of using ethically sourced ingredients for the hotel's culinary requirements. This year's theme is #GrowingTogether.
World Food Day is observed every 16th of October in more than 150 countries. Its goal is to create a hunger-free world by 2030 by raising awareness on the issues behind poverty and global hunger. Since 2017, Makati Shangri-La, Manila has been the only hotel in the Philippines to adopt and take an active participation in this global movement championed by the hotel's executive chef, Nicola Canuti, and hotel manager, Udo Wittich.
This year, Makati Shangri-La, Manila focuses on the importance of locally sourced produce and sustainable farming practices. With a growing population expected to reach 9 billion in 2050, poor agricultural practices could lead to permanent environmental damage, thus lessening the food supply which could eventually lead to hunger.
Makati Shangri-La, Manila has partnered with local farms, such as Gourmet Farms, in sourcing high-quality produce. Year to date, the hotel has already increased its demand for locally sourced produce by 15 per cent and is expecting to further increase this percentage in the following years.
"I chose local suppliers because they're passionate in what they do and try to deliver the best produce, so I want to help these people at the same time. I also encourage my guests to discover creative ways to enjoy vegetables," said Chef Nicola Canuti.
From October 15 to 21, guests and diners can enjoy special salad recipes prepared by Chef Nicola Canuti at Circles Event Café's salad station. Five healthy creations are available featuring locally sourced vegetables namely Broccoli, Pumpkin, White and Black Beans, Avocado, Kale, and Red Cabbage.
Makati Shangri-La, Manila supports campaigns that make a positive impact on the environment. By locally sourcing its produce, the hotel develops deeper relationships with farmers, creates markets for sustainable products, encourages sustainable agricultural practices and provides a higher-quality cuisine to guests and diners. One positive action leads to another – this is how Makati Shangri-La, Manila, the community and the environment grow together.
Hong Kong-based Shangri-La Hotels and Resorts currently operates over 100 hotels with a room inventory of over 41,000.  Shangri-La hotels are five-star deluxe properties featuring extensive luxury facilities and services. Shangri-La hotels are located in Australia, Canada, mainland China, Fiji, France, Hong Kong, India, Indonesia, Japan, Malaysia, Maldives, Mauritius, Mongolia, Myanmar, Philippines, Qatar, Singapore, Sri Lanka, Sultanate of Oman, Taiwan, Thailand, Turkey, the United Arab Emirates and the United Kingdom.  The group has a substantial development pipeline with upcoming projects in Australia, Bahrain, mainland China, Cambodia, Indonesia, Malaysia and Saudi Arabia. For more information, please visit www.shangri-la.com.