After the successful launch and run of MCA Music Inc. (Universal Music Philippines)'s Baktubaktubak: Bar Tour for the month of July, the bar tour continues this coming August featuring local acts such as MilesExperience, juan karlos, Clara Benin, Tom's Story, Syd Hartha, I Belong to the Zoo, and more!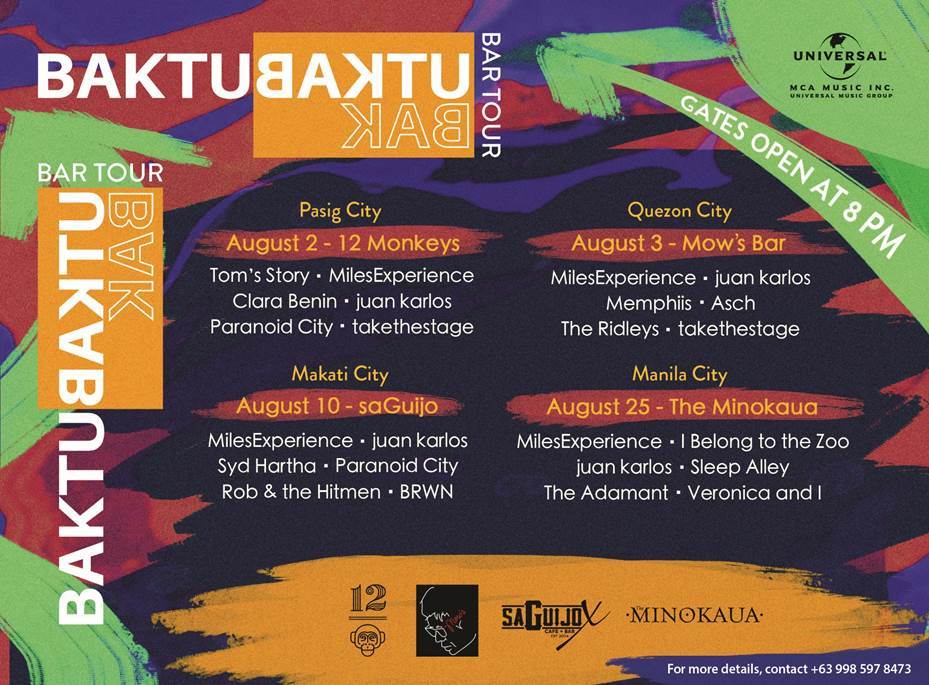 Baktubaktubak is an all-in bar tour featuring some of OPM's biggest and rising local acts with the main goal to promote and spread the love for musikang Pilipino across the Metro.
Each leg for the month of August would feature six (6) local acts coming from different genres, styles, and even record labels — not to mention some who independently represent themselves!
With this set-up, MCA Music Inc.'s Baktubaktubak: Bar Tour is the breeding ground for people who share a common love for OPM and the belief that music is indeed universal.
SEE BELOW THE ARTIST LINEUP FOR EACH LEG THIS AUGUST:
August 2, 2018 | 8:00PM | 12 Monkeys, El Pueblo, Ortigas, Pasig City
MilesExperience
juan karlos
Clara Benin
Tom's Story
Paranoid City
takethestage
August 3, 2018 | 8:00PM | Mow's Bar, Quezon City
MilesExperience
juan karlos
MEMPHIIS
Asch
The Ridleys
takethestage
August 10, 2018 | 8:00PM | saGuijo Bar + Café, Makati City
MilesExperience
juan karlos
Syd Hartha
Paranoid City
BRWN
Rob & the Hitmen
August 25, 2018 | 8:00PM | The Minokaua, Malate, Manila City
MilesExperience
juan karlos
I Belong to the Zoo
Veronica and I
Sleep Alley
The Adamant
For more details, contact +63 998 597 8473