Funny love stories provide the highlight of the whole family's KBOnding this weekend (June 30 and July 1) with the TV premiere of "My Amnesia Love" and the return of "Loving In Tandem" on KBO.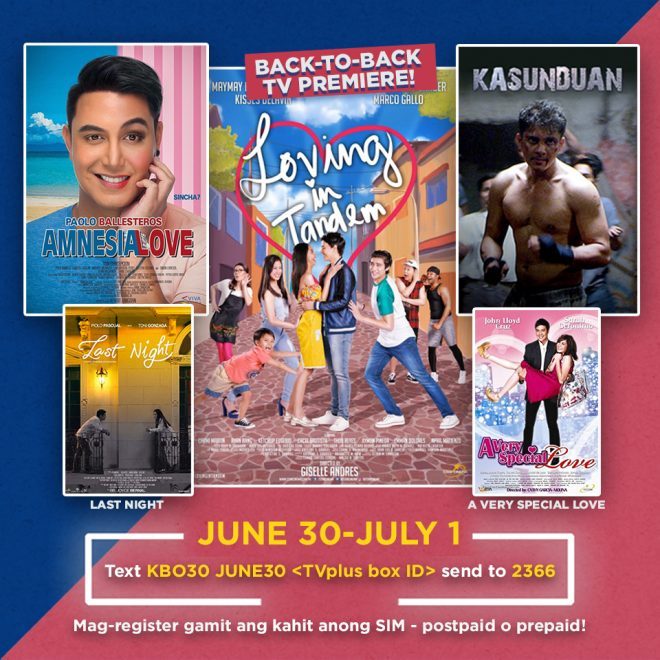 Paolo Ballesteros is Maki, a gay man trying to find his true identity after being found unconscious in a remote island, in the movie "My Amnesia Love." As he was discovering himself, Doray (Yam Concepcion) enters his life and puts his heart's desire to the test.
Meanwhile, starring hit Kapamilya loveteam Mayward, "Loving in Tandem" revolves around happy-go-lucky Shine (Maymay Entrata) who will do everything for her family. But when it comes to love, sadly she is hopeless. Until one day, she unexpectedly meets Luke (Edward Barber), a rebellious and grumpy teenager, who was sent to the Philippines by his father. Despite their differences, love dares blossom.
Also making its way to the small screen is Ejay Falcon's "Kasunduan" together with "Last Night" and "A Very Special Love."
You may register using any prepaid or postpaid SIM. For prepaid, just load up (Globe, TM, Smart, Sun, TNT, or ABS-CBNmobile SIM) with P30; press the green / INFO button on your TVplus box remote to get your box ID; then text KBO30 JUN30 <TVplus box ID> to 2366.