Most people wait until the third date, but globally it only takes two weeks (well, 12-days to be exact) for the majority of Netflix members to go all the way. No, not Netflix and chill. We're talking about your first time bingeing on Netflix.
This Valentine's Month, Netflix wants to help you remember your first. Think back to the moment you realized you just can't stop watching: What show was it? Where were you? How long did it take for you to finish an entire season? And if you say it took you less than a week to meet your first, you're not alone: it only took an average of five days for Pinoys to start their first binge!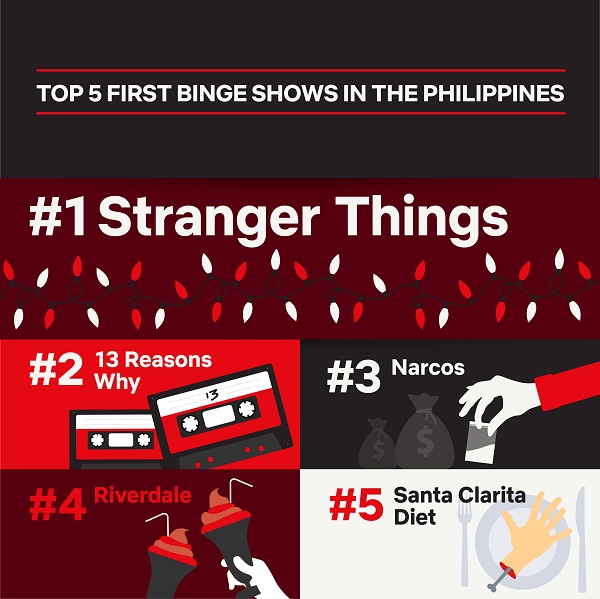 For most Filipinos, the love for Eleven and the gang is still going strong because Stranger Things is the most popular show that people binged first. We also couldn't wait to finish shows like 13 Reasons Why, Narcos, and Riverdale.
Pinoys are also falling for stories filled with exciting action and shocking plot twists, like Santa Clarita Diet, Marvel's Iron Fist, Shooter, and How to Get Away with Murder. Meanwhile, the badass ladies (and gents) from Orange Is The New Black and Breaking Bad round out the Top 10.
Now stream or revisit your old favorites on the go with Netflix's download feature! Just click the download button on the details page of the show, and you can watch it anytime and anywhere, even without an internet connection. Or if you are looking for your next binge, we recommend The End of the F***ing World.
Top 10 First Binges in the Philippines:
1. Stranger Things
2. 13 Reasons Why
3. Narcos
4. Riverdale
5. Santa Clarita Diet
6. Marvel's Iron Fist
7. Shooter
8. How to Get Away with Murder
9. Orange Is the New Black
10. Breaking Bad