In New Line Cinema's horror-thriller The Nun, a young nun at an abbey in Transylvania has committed the ultimate sin: taking her own life. Now it is imperative that the church determine if the ground is still holy, or if evil has compromised the Abbey of St. Carta.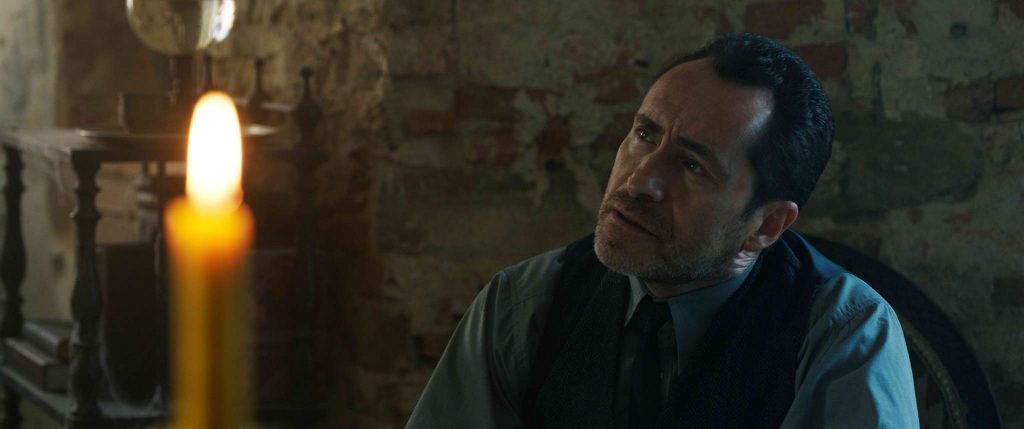 To address the dire situation, the Vatican enlists the expertise of Father Burke, a clergyman from Philadelphia and one of only a few skilled in testing the validity of miracles and darker phenomenon.
Oscar Best Actor nominee Demian Bichir (A Better Life), who stars as Father Burke, says that reading the script, he was immediately drawn into the paranormal tale. "I loved the spectacular setting and thought Father Burke was one of the richest characters I'd ever read. And the script was very well-written—so complex, and deep in many different ways."
Producer Peter Safran reveals, "Demian is a brilliant actor who played each facet of the character believably. We all loved him from his previous work so, truly, he was the first and only call we made."
Describing his role, Bichir says, "Father Burke is a man of faith and a demon hunter who believes it is possible to save the world one demon at a time. He is a fighter on different fronts; however, he is also haunted by his own demons, and that is the real battle he faces every day of his life."
The last time Father Burke dealt with the demon hunting aspect of his priestly duties, a terrible tragedy occurred. Almost a decade has passed, and he still maintains a safe distance between himself and the investigative fray because he is still deeply conflicted by those disturbing events. Despite his unease, Father Burke is bound to comply with the Cardinal's wishes.
"Once you take your vows, you've promised to be God's soldier for life," says Bichir. "As a soldier you don't contradict orders; you don't refuse any call."
In Philippine cinemas Thursday, September 06, The Nun is distributed by Warner Bros. Pictures, a Warner Bros. Entertainment Company.