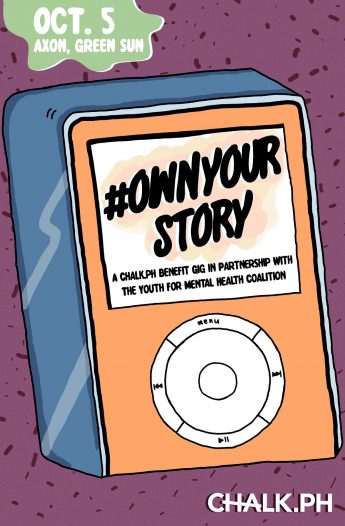 These days, more and more people are talking about and opening up on mental health. While the conversation is branching out and having farther reach, there is still much to be done especially among the youth and this is why Chalk.ph and Youth For Mental Health Coalition will hold #OwnYourStory, a benefit gig happening on October 5, Friday at The Axon, Green Sun Hotel, Makati City.
The event aims to celebrate life through exciting musical performances, with local acts such as Where's Ramona?, Fern., Coeli, and Oh Flamingo!
Chalk.ph has partnered with Youth For Mental Health Coalition, an organization that aims to nurture those with mental health needs and to remove the stigma about this illness, to help increase awareness on this important advocacy in celebration of the Mental Health Month this October.
Tickets are priced at P250.00 and may be purchased at ktx.abs-cbn.com or on the day of event.
Let's #MoveForMH and join #OwnYourStory, an event also supported by Careline and Sketchers.