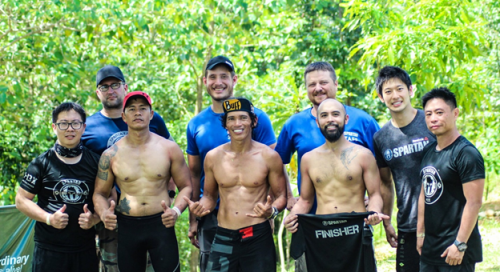 The Philippines was crowned as the 2018 Spartan H3X Champion after a grueling 24-hour sandbag carries and conquering all the extreme challenges within the Timberland Heights grounds. Staged simultaneously in four countries, the 71-man Philippine contingent went against the participants from Greece, Mexico and the United States.
According to Mike Reyes, Spartan Race Director, H3X is basically all three Hurricane Heat lengths rolled into a consecutively-run event, which started at the exact same time and run simultaneously regardless of time zone.
Reyes added that what made the event more fun is the magnificent views and natural landscapes at Timberland Heights. "We are really glad that Filinvest has agreed to be the venue host for the first ever H3X in the Philippines," Reyes said. Timberland Heights was also the venue host when the first Spartan Sprint was held in the country last year.
"I'm elated and proud to be Subic Bay-Zambales-Bataan Spartan community's lone representative in that 24-hour battle. I scored the three-point shot in the tiebreaker, so to speak, by being the fastest to do 50 burpees at 1 minute 50 sec while Mexico and California did theirs around 2 minutes 20 seconds," said Jimi Arthur Binoya.
Lexi Noval, one of the participants who voluntarily finished the endurance event said that her H3X experience is definitely worth it. "It's great knowing that you can go through challenges together as a team and strengthen friendships. The venue is very beautiful. It's nice knowing that there's a peaceful place like this near Metro Manila."
"We envisioned Timberland Heights as a recreational township destination, not just a place to live in but a destination that allows you to discover and experience life in an extraordinary and adventurous way while being cradled by nature's own perfection," Francis V. Ceballos, Senior Vice President and North East Cluster head of Filinvest said.
ABOUT TIMBERLAND HEIGHTS
Timberland Heights offers its residents their own piece of bliss through the exclusive villages and upscale residential enclaves, such as Mandala 1 & 2, The Ridge, Banyan Crest, Banyan Ridge and the newest development, The Glades. All these are surrounded by nature, with vast open spaces, breathtaking panoramic views, lush greens, as well as cool, mountain breeze.
Located in San Mateo, Rizal, Timberland Heights is a sprawling 677-hectare master-planned development and is only a 9-km. drive from Batasang Pambansa in Quezon City.
Timberland Heights boasts of a myriad of extraordinary experiences to cater to different interests of its residents and guests. Bask in extraordinary and adventurous discoveries with Timberland Heights Sports and Nature Club and enjoy a host of activities like basketball, wall climbing, swimming, work out at the gym and stay stylish at the in-house salon. Timberland Heights is also home to a world-class bike trails that is fast gaining popularity among mountain biking enthusiasts participants of other athletic events of international caliber. The trails are also compliant with the International Mountain Bike Association (IMBA) trail specifications for both safety and technical standards.
To complement all the leisure, commercial and residential amenities and facilities of Timberland Heights, Filinvest is also planning to build an eco-inspired church as a homage to the well-loved pope, St. John Paul II, which will be the townscape's center of faith and pilgrimage site.
Know more about Timberland Heights by visiting http://www.filinvest.com.