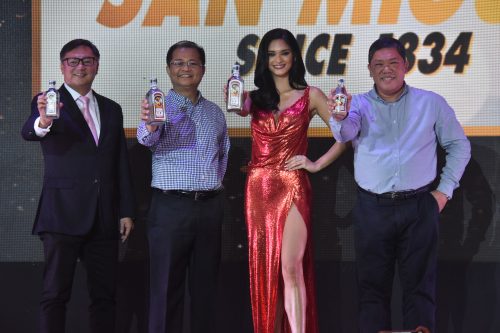 It was an exciting evening filled with Filipino pride as Ginebra San Miguel celebrated another milestone with its key dealers and friends from the media. Along with its 185th anniversary, came the beautiful reveal of their Calendar Girl for 2019. The Isla ballroom of EDSA Shangri-La hotel was packed with everyone waiting to meet the newest addition to the famous and prestigious roster of GSM Calendar Girls.
Part of history
"In 2019, Ginebra San Miguel will be 185 years old as a brand. So next year will be a super special year. Dapat super special rin ang calendar. So, everyone was asking who will the next GSM calendar girl be?" This was the introductory speech of GSMI Marketing manager Ron Molina at the recent launch of the Ginebra San Miguel Calendar Girl 2019.
Ginebra San Miguel was considered the drink of the elite back in 1834. Ninety years later, with greater supply, Ginebra quickly became the drink of the masses. "So now, we could say that it has withstood the test of time, like no other Philippine liquor brand," adds Molina. Ginebra San Miguel is, in fact, the oldest consumer brand that is still in the market today.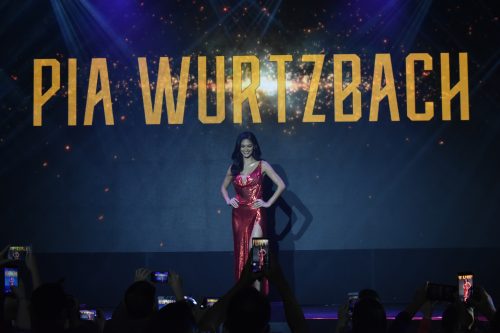 Ginebra salutes the Filipino heroes
Over the last 185 years, Ginebra San Miguel has become more than a drink. It's been the companion of every Filipino, through ups and downs. Molina shares, "It has become the Filipino drinkers' badge of strength and boldness, passion. It's a badge of pride. Kaya naman, ang bawat tagay ng Ginebra ay isang saludo sa bawat Pilipinong may ipinaglalabang pangarap, pamilya at bayan. Ang tingin namin sa kanila, mga bayani." Ginebra San Miguel is an iconic Philippine brand that reflects the bravery, compassion and never say die spirit of every Filipino.
"This year, we pay tribute to the struggle and spirit of the hero, that is the Filipino every man. Dahil taglay nila ang husay at tapang at tibay na hindi sumusuko. Kahit anuman ang pinagdadaanan, at ano man ang pasubok. Narinig nyo na siguro: Never Say Die. Ito ang kwento ng bawat Pilipino. Ito ang kwento ng Ginebra. Ito ang kwento ng Ginebra Ako.
Ginebra San Miguel Calendar Girl 2019
Despite all the challenges, Filipinos remain hopeful and steadfast. It's this unique quality that put us all in the world map, amidst the many hurdles we've been through. Dahil Pilipino ako. Matapang ako. Ginebra ako.
The Ginebra San Miguel Calendar Girl 2019 represents all these and more. The crowd went wild when the LED backdrop on stage opened to show who the beautiful reveal was. Pia Wurtzbach, in a figure-hugging red sequined dress with thigh high slit, came out to greet everyone, and she looks amazing!
With all that she has been through, joining Bb. Pilipinas three times and bagging the Miss Universe title at last, she was determined to win for her family and country. This woman embodies the Filipino spirit of being ganado, resilient and never say die! In the AVP shown at the launch, she and Ginebra San Miguel share the same journey of overcoming many challenges. Just like all the Filipinos, our spirit never gives up, our passion and courage to stand up for what is right, and our resilience and the desire to serve others, to carry on for the sake of our loved ones.
As she walked the towering stage truly deserving of a Miss Universe, Pia Wurtzbach shares her story again:
It has always been my dream to be Miss Universe.
Everybody knows my story…
Tulad niyo, dumaan din ako sa mga hamon at pagsubok sa buhay.
I joined Binibining Pilipinas three times; with perseverance, hard work and the love and support of my family and friends, I triumphed, I became Miss Universe.
I was determined to win for my family and country.
Masaya ako na ako ang napiling maging 2019 Ginebra San Miguel Calendar Girl.
Tulad ng Ginebra San Miguel, pinapahalagahan ko ang mga katangiang kilala at nagpaangat sa mga Pilipino sa buong mundo.
Matapang, matibay, ganado; never say die!
Hindi sumusuko sa anumang hamon ng buhay.
At the end of this journey, ginagawa natin 'to para sa ating mga pangarap.
Ako si Pia Wurtzbach, your 2019 Ginebra San Miguel Calendar Girl.
Pilipino Ako. Matapang Ako. Ginebra Ako.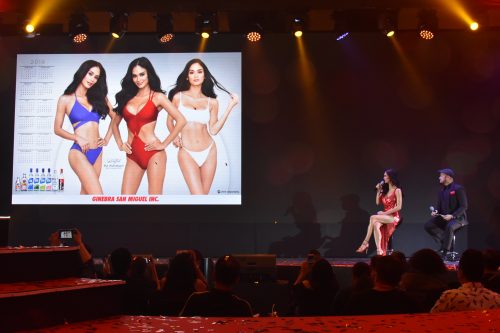 One-on-One with Pia Wurtzbach
When asked by host Rico Robles how it feels to be part of an iconic Filipino brand. "I am so honored to be part of this well respected brand. It is really recognized all over the world. Itong sa Ginebra San Miguel, medyo special case ito. Kasi a few months ago, syempre tiningnan ko sarili ko sa salamin. Napansin ko, 'medyo, girl, hindi na medyo Miss Universe figure mo ha'. After nalaman ko na kukunin ako ng GSM, I promise, I will deliver. Just give me a few weeks." She went into the zone, pushing herself but enjoying the workouts she signed up in. From regular gym session to high intensity workouts, she made sure she still has fun. "Pinaghandaan ko ito. Nag train ako. Di ko dinaya. Inisip ko kasi dapat maganda ako sa camera. Pero while I was doing it, I realized, kailangan maganda rin pakiramdam ko. I think yun yung mas importante talaga. So thank you, na push ako ng Ginebra."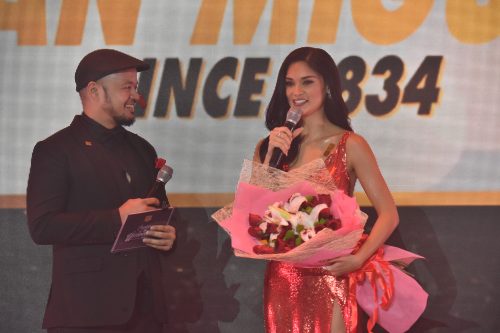 It is also Pia's first time to accept an endorsement that requires wearing swimsuits outside the pageant world. "Ginebra San Miguel is an internationally recognized brand. I am really happy to be here. Thank you so much for making me part of this family. My favorite drink is actually gin and tonic. I like to add juniper berries and peppercorn. That is my signature drink. My best friend actually makes it for me. Now, I would like to call it the Pia drink." True enough, everyone was treated to a Pia drink right after she revealed her favorite G&T drink."
Ginebra San Miguel Calendar 2019 quick tour
"I think a lot of people know already my story in Binibini. I kept trying and finally made it here. Beyond that, what are the new things that I'm going to do. That's what I am working on right now. I want to continue to make all of you proud. I do have a never-say-die story because of my story when I joined Ms. Universe, but it's not the end of my story. Abangan nyo na lang," Pia teases.
Part of her story continues in her latest endorsement as Ginebra San Miguel Calendar Girl for 2019. Together with host Rico, they guided the guests through all the calendar sheets shown on the big screen. The first, with her in a red swimsuit holding the classic gin since 1834. Pia was quick to share that Ginebra San Miguel is a Monde Selection Gold Awardee and recognized by Drinks International and Wines and Spirits Competition as the World's Largest Selling Gin Brand. "This became the final pitch na sobrang nagustuhan ng IMG (International Management Group). Nag yes sila kaagad kasi kilala nila ang brand and this is the world's largest selling gin brand. So they said yes right away, and syempre, I said yes!"
Second is Pia in blue, showcasing GSM Blue flavors. "GSM Blue is very fun, it's what you usually have with your friends. It's a ready mix drink, so you don't need a chaser. You just buy the bottle and you're good to go. I know this brand is known to be something fun, so I wanted to show it in the photo."
Vino Kulafu is the Philippines' No. 1 best-selling Chinese wine with various health benefits from its 12 authentic Chinese herb ingredients. It also achieved Gold Quality Label Award from Monde Selection International Institute for Quality Selections 2018. "What I love about this shoot is they let me add my own personality. Minsan nadadala ako sa photoshoot, so I started flipping my hair from one side to the other side. So now, it's part of the calendar," laughs a giddy Pia.
The last two sets of photos are the biggest reveals because it's the first in history for GSM Calendar, with host Rico Robles naming it "Panoramic Pia." Both layouts show three Pia's in different sexy bikinis. "I am so happy I'm the first one. I really like the idea that you get more of, not me, but the products. I love it!"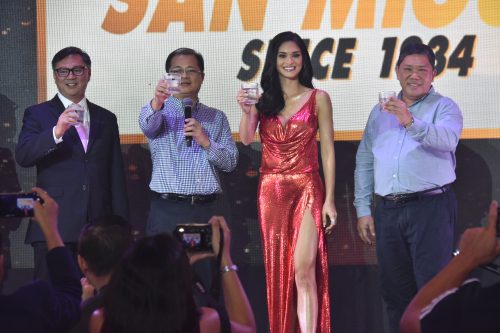 Isang Tagay para sa Pilipino
"Parang mas fit pa ako ngayon kaysa sumali ako sa Miss Universe. I'm really happy with the results," says Pia after she saw all her bikini photos for Ginebra San Miguel Calendar 2019. Ginebra San Miguel truly appreciates all the time and hard work that Pia gave to produce such amazing photos. General Manager of Ginebra San Miguel Noli Macalalag joins Pia on stage to present to her a simple token, "Ginebra San Miguel would like to give you, Ms. Pia Wurtzbach, this commemorative Ginebra San Miguel bottle to officially welcome you to the Ginebra San Miguel family. Sumasaludo ang Ginebra San Miguel sa tapang at husay mo!"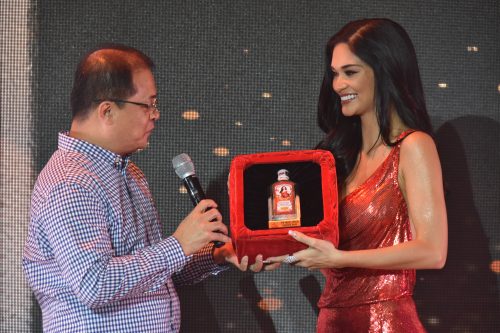 National Sales Manager Allan Mercado and National Marketing Manager Ronald Molina join the two on stage for a celebratory toast. Macalalag leads "Isang tagay sa tunay na tapang ni Pia, ang ating 2019 Ginebra San Miguel Calendar Girl. At isang tagay para sa mga Pilipino. Pilipino tayo. Matapang tayo. Ginebra tayo. Cheers!"
Guests got to enjoy handcrafted drinks from the Ginebra San Miguel Bar 1834 with offerings of Ginebra San Miguel Gin and Tonic, GSM Blue Light Gin Tom Collins, GSM Premium Gin Calamansi Surprise, Primera Light Brandy Sky Prisma, Vino Kulafu Kulmix, Antonov Vodka Cosmopolitan, Añejo Medium Rum Cuba Libre, GSM Blue Flavors Margarita Slush, and GSM Blue Flavors Gin Pomelo Slush. They even got to bring home a customized bottle of Ginebra with their photo printed on the label, courtesy of the Tatak Ginebra booth. Overflowing food and drinks were also served as they waited for the reveal.
Ginebra San Miguel Calendar 2019 will soon be released in stores and dealers nationwide.