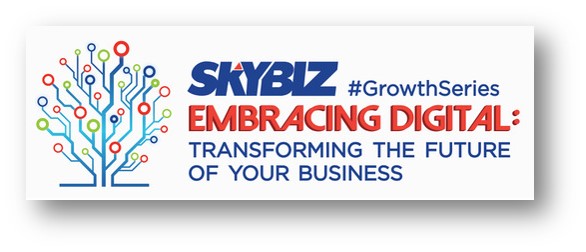 SKYBIZ, the business solutions arm of content and broadband provider SKY, continues to promote the use of digital tools for entrepreneurs for business growth opportunities as it launches the SKYBIZ fiber network in Iloilo and Bacolod via the SKYBIZ Growth Series on September 18 and September 20, respectively.
With the fiber network in place, SKYBIZ is able to deliver fast and business-grade broadband services. Its products are designed to help small, medium, and large enterprises ensure productivity, capitalize on digital technology, with the provision of cable television to enrich customer experience.
These include business-grade fiber broadband connections that may be bundled with other data and content services like BIZTV HD, which is powered by SKYcable, and BIZTV Direct, which is powered by SKYdirect. For SMEs, it offers BIZbroadband Connect plan, which includes business-grade broadband with no data caps, a 24/7 technical support, static IP, and domain registration for one year.
SKYBIZ's Growth Series is dubbed as "Embracing Digital Success: Transforming the Future of Your Business" will teach company owners and decision makers the advantages and specific tools in digital marketing. Topics to be discussed are: Success in Digital Marketing and Benefits of Going Digital for Your Business: Traditional Marketing vs. Digital Marketing to be led by industry experts like Maven Solutions CEO Yen de Felipe; SCI – Satoshi Citadel Industries Co- founder/CEO John Bailon; Acudeen Technologies, Inc. founder and CEO Mario Jordan Fetalino III; ServeHappy Jobs founder and CEO Audrey  Tanco Uy; Mober, Move at a Click founder and CEO Dennis Ng; and Pushkart.ph – Online Grocery Delivery CEO Joshua Aragon.
"Digital marketing benefits businesses of all sizes by giving access to the mass market at an affordable price. It allows truly personalized marketing. The main advantage of digital marketing is that a targeted audience can be reached in a cost-effective and measurable way. We want to enable our clients for the future," shared SKYBIZ Dicky Liwanag, SKYBIZ Enterprise and MSME head.
Last June 30, SKYBIZ launched the Growth Series in Cebu with digital marketing guru Fleire Castro and DTI Regional VII Provincial Director Ma. Elena Arbon.
Visit skybiz.com.ph to find out more about the different products and services of SKYBIZ.