Yellow Cab is giving its hungriest hustlers new offerings that will surely fuel their need to keep on going this holiday season.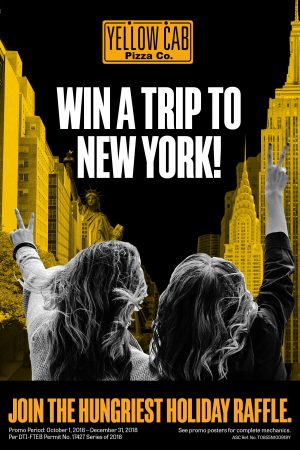 Yellow Cab literally takes the hungry to New York
It's go big or go home with Yellow Cab's Hungriest Holiday Raffle where one lucky, hungry soul gets an all-expense paid trip for two to the Big Apple. All you need to do is order from Yellow Cab starting now until December 31 in order to be part in the hungriest raffle. For every single receipt worth P999.00 to P1,788.00 entitles you to one raffle ticket, two for P1,799.00 to P2,488.00, and three for purchases P2,499.00 and above. For those who don't win the grand prize, 999 winners will get the chance to avail of a free Bronx Creamy Mushroom Pizza.
The most complete Yellow Cab bundle ever
Back-to-back celebrations are sure well on their way this holiday season, and what better way to feed the hungry crowd than with Yellow Cab's Hungry Holiday Feast? With almost everything their menu has to offer, each order comes with an 18" 2-in-1 Pizza featuring the pizza joint's bestsellers New York Finest and #4 Cheese, three pastas namely Yellow Cab's signature Charlie Chan, Chicken Alfredo and Spaghetti & Meatballs, a 12pc. Chicken Box in Hot Chix, Garlic Parmesan and Salt & Pepper flavors, and two 1.5L bottles of Mountain Dew. Finish it off with Strawberry and Pistachio ice cream, the Hungry Holiday Feast really has everything—and it's all for only P2,789.00! And that's not all, every receipt order of the Hungry Holiday Feast is worth 5 raffle tickets for the Hungriest Holiday Raffle, so order one now to up your chances for a FREE trip to New York!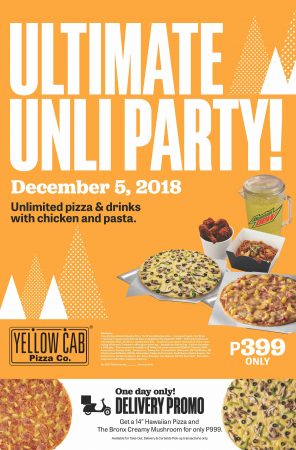 Ain't no party like an Ultimate UnliParty
Don't wait to get invited to a party, why not throw the party yourself with Yellow Cab's annual Ultimate Unli Party, and this year it's bigger than ever. On December 5, enjoy unlimited slices of Hawaiian or The Bronx Creamy Mushroom pizza and free-flowing Mountain Dew for only P399.00. The Ultimate Unli Party now also comes with one serving of regular Hot Wings and Charlie Chan Chicken Pasta or Spaghetti & Meatballs for dine-in customers. For hustlers who prefer to bring the food to where their crowd is via takeout, delivery, or curbside pickup, they can choose to avail of the 14" Hawaiian and The Bronx Creamy Mushroom pizzas for only P999.00. Generous, complete, and value for money, Yellow Cab's Ultimate Unli Party is the most awaited event for foodies and hustlers everywhere.
Don't miss out on these holiday specials. Visit your nearest Yellow Cab branch and have a hustlin' holiday!