In a recent meeting at Club Filipino, ACTS-OFW Partylist Congressman Aniceto "John" Bertiz III reiterated their group's commitment for the passage of the Anti-Discrimination Bill in Congress. The said bill will protect the rights of lesbians, gays, bisexuals, and transgenders in the workplace and in the schools, as well as the right to set up a business or practice a profession. It will also give them the equal rights that are the birth right of each and every Filipino.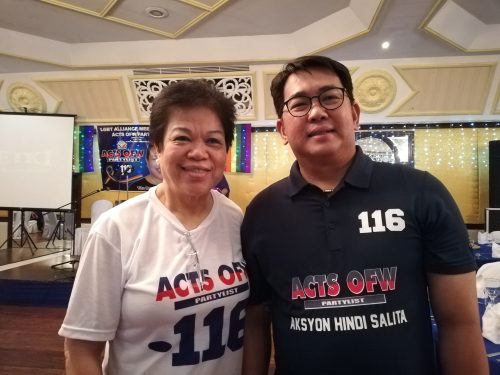 Cong. Bertiz gave this commitment to some members of the LGBT community, particularly to those who attended the solidarity event. They gave the commitment after consulting with the group and with their many members overseas, some of whom are also LGBTs.
"We have Overseas Filipino workers who are also members of the LGBT community. We have seen how hard they work so they could provide for their families back home. The LGBTs are the bread winners and the backbone of their families. They have sent their brothers and sisters to school, and have taken care of their parents' medical needs. Therefore, we should give them the protection that is enshrined in the Bill of Rights of our Philippine Constitution."
For their part, Ladlad Chairman Professor Danton Remoto lauded this commitment from a party list whose focus is to have the best ethical practices in the overseas recruitment industry. "I am also an Overseas Filipino Worker teaching at a British university in Malaysia. I welcome the consultation done by ACTS-OFW Partylist with us regarding LGBTQ rights. Fighting for the rights of our LGBTQ will always be a prime advocacy of Ladlad Partylist." Professor Danton Remoto is running for Councilor of District 3, in Quezon City.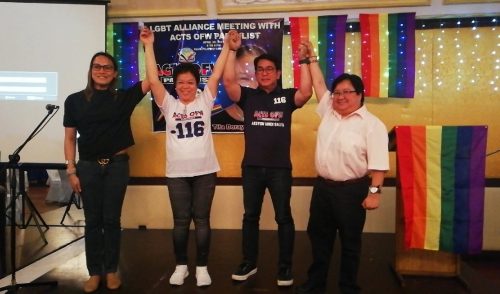 ACTS-OFW means "Alliance for Community Transformation and Service for Overseas Filipino Workers," which was founded in 2010. ACTS-OFW Party List pushed for the ten-year validity of our passport and the creation of 1,000 more slots daily for OFW applicants. They also worked for the exemption of OFWs from the P550 airport terminal fee, among many other legislative measures to help our OFWs, dubbed the "unsung heroes of our country."