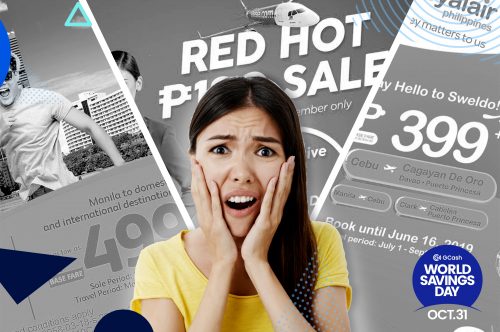 Real talk: how much have you spent on traveling this year?
Have you ever booked a flight, and worried about budget later?
Then you're definitely part of team "Book Now, Broke Later"
And you are not alone.
The scary truth is, 66% of Filipinos still do not have savings — that's 72 million of the population! And considering the urgency and panic brought by seat sales, more and more Filipinos are spending on flights as their savings fly away. Relate much?
But wanderlust doesn't always have to mean money lost. Here's a travel hack: if you invest your money now in a savings account with 3% interest like GCash, you'll have more funds for your next trip, plus savings to boost! Just in time for World Savings Day this October 31. GCash is offering 12x higher interest rates than the country's #1 bank, with no minimum deposit required. Just upload a valid ID and you're good to go. You can deposit and track your savings account anytime, anywhere!
Join this movement by tuning in to the GCash World Savings Day telecast, the whole day on October 31, 2019 on Rappler, Facebook Live, and the GCash Facebook page (www.facebook.com/gcashofficial).