In a recent ceremony at the Kalayaan Hall of the Malacanan Palace, Arsenio J. Lizaso, president of the Cultural Center of the Philippines (CCP), was named as one of the Ten Outstanding Movers of the Philippines (TOMP) for arts and culture. Another TOMP awardee under the same category of arts and culture is musician Joey Ayala.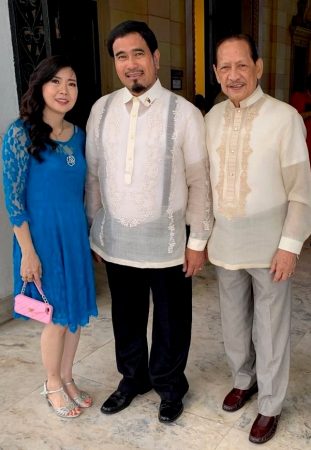 Secretary Roy Cimatu of the Department of Environment and Natural Resources (DENR) led the ceremony on behalf of the President of the Republic of the Philippines Rodrigo R. Duterte.
The other categories of the TOMP include leadership and public service, business and entrepreneurship, broadcast communication, leadership and education, education, and science and technology.
The Students' Actions Vital to the Environment and Mother Earth (Save Me) Movement bestows the TOMP award annually since 2012 in response to the need for a new breed of heroes and role models who have done exemplary work in their respective different fields to inspire the young people.
The Save Me Movement, through the TOMP award, endeavors the awardees "to continue moving in every given opportunity, to unceasingly walk the seemingly uncharted way of making
a difference, to continue to burn to shed light and be a beacon of inspiration and hope that together we can snatch back the beauty and splendor of the earth to serve our life to the fullest in all of its vicissitudes."
The Save Me Movement, an environmental organization founded in 1996, has this vision: A global culture based on truth, goodness and beauty, where the sciences, religion and the arts are one in reinforcing man to sustainable live in a healthy environment with a balanced ecosystem.
Lizaso often described as "a man of action" counts almost six (6) decades of experience in theater, television, and film as an actor, director, and producer. Parallel to his artistic experience, he has another six (6) decades of cultural work, art education, and a personal advocacy to bring art closer to the everyday man."
This is the second award that Lizaso received for the year. On February 15, 2019, during the outreach concert of the Philippine Philharmonic Orchestra (PPO) at the University of the East (UE), the university conferred him with an Arts and Culture award as an outstanding UE alumnus.