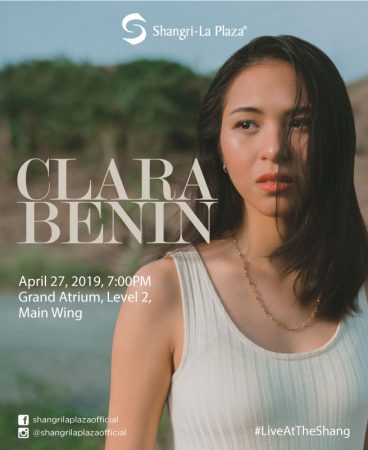 Catch the summer wave at Shangri-La Plaza as indie phenomenon Clara Benin brings the beats to match the season on April 27, 7:00PM at the Grand Atrium.
A talented singer-songwriter, Clara is known for her soothing acoustic guitar music. The unique combination of indie, folk, and acoustic alternative influences can be heard in her 2015 debut album, Human Eyes. After coming back with singles in 2017, she also represented the Philippines in Music Matters, Asia's premier independent music festival, and One Voice: The Best of ASEAN Performing Arts in Singapore.
With her sweet, intimate voice, ambient harmonies, and heartfelt lyrics, Clara is one of the most exciting young talents in the local music scene.
#FeelTheShangVibe as Clara Benin performs her hits, including Parallel Universe and Tila, on April 27 at Shangri-La Plaza.